Did you know that it takes 1.8 million words to achieve the value of a one-minute video? 
Thousands of companies are using online animated video to gain massive engagement and attention. How are they doing this? Well, some pay big bucks to have agencies create video content, but this can cost a lot of money and time which isn't possible for a lot of teams. 
Smarter teams are realizing that they can use online animation software platforms to create professional looking animated videos in a quick, easy, and cost effective way. What's great is a lot of these animation platforms are simple to use, so non-technical teams can create animated content quickly and easily. They are also very cost effective, with many offering access to the online video platforms for free, and giving inexpensive upgrade paths starting around 19/month. 
At StackAmplify, we make it our mission to find the best software for your business, saving you countless hours and dollars researching software categories before purchase. We've done the research on animation software for you, diving into over 31 online animation software platforms and identifying the 6+ best for your business in 2020. 
What is online animation software? 
Online animation software allows teams to create professional tv quality animated videos without having to shell big bucks for creative agencies. Online animation software platforms give teams access to a powerpoint like editor to create professional animated videos. These platforms include a variety of media like templates, pre-built animations, royalty free audio-content, and ways to easily update font, colors and branding. With these features in your hands, your team can create professional looking animated video content for your websites, advertising, or training. 
Online animation software allows you to create professional animated content in under an hour, and for a very low cost. With that we've distilled down the best animation software reviews for your business. 
What are the best online animation software platforms?
BEST ONLINE ANIMATION SOFTWARE PLATFORM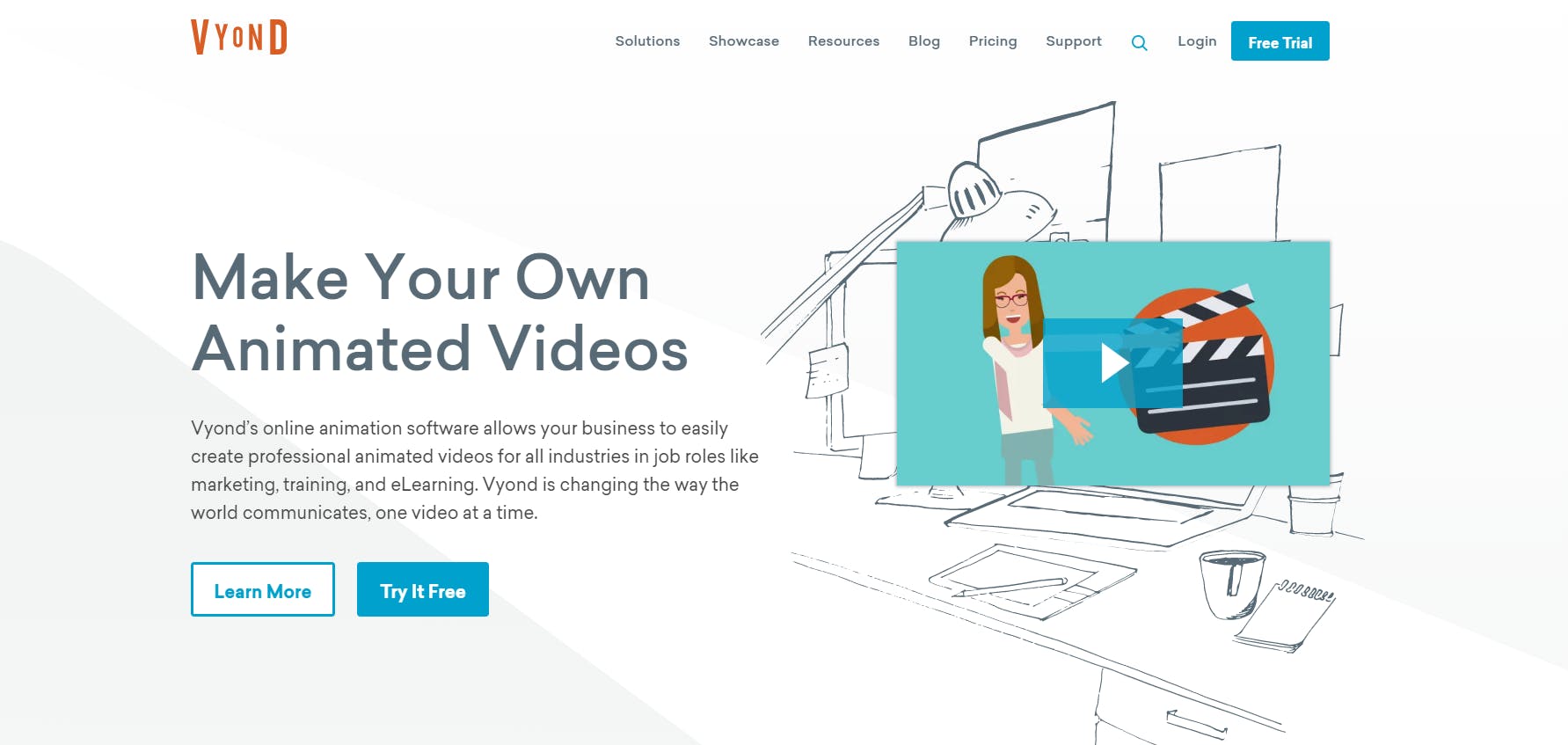 Vyond Review
Vyonds mission is to put the power of video in the hands of everyone. They are one affordable platform with a robust set of user-friendly features including various pre-created characters, team collaboration, tons of export options, custom fonts and color branding, and live support. 
They are our #1 choice because they are the only platform you need to create incredible animated videos across your company, whether they are for marketing, training and e-learning, or even sales.
First of all, Vyond comes with a library of pre-animated assets, allowing anyone to start looking like a pro-video maker in minutes. The drag-and-drop editor provides a really easy way to get started creating your first videos online, and after creating your first video, you'll have an professional animated video without the time and money typically needed to have one professionally created
Vyond has a large selection of characters and templates that make your animated videos stand out from other animation software platforms. They offer three key character styles: contemporary, business friendly, and whiteboard. The premade character animations can be made with the click of a button, and the character can be made to lip sync which is a huge time saver.
Vyond Pricing
Vyond offers a free-trial which we'd highly recommend you try. Once completed with the trial, we'd suggest you try the Premium plan for $89/month, as it is really suitable for small businesses, and removes the watermark of the Essential plan. 
BEST FOR QUICK ANIMATED VIDEOS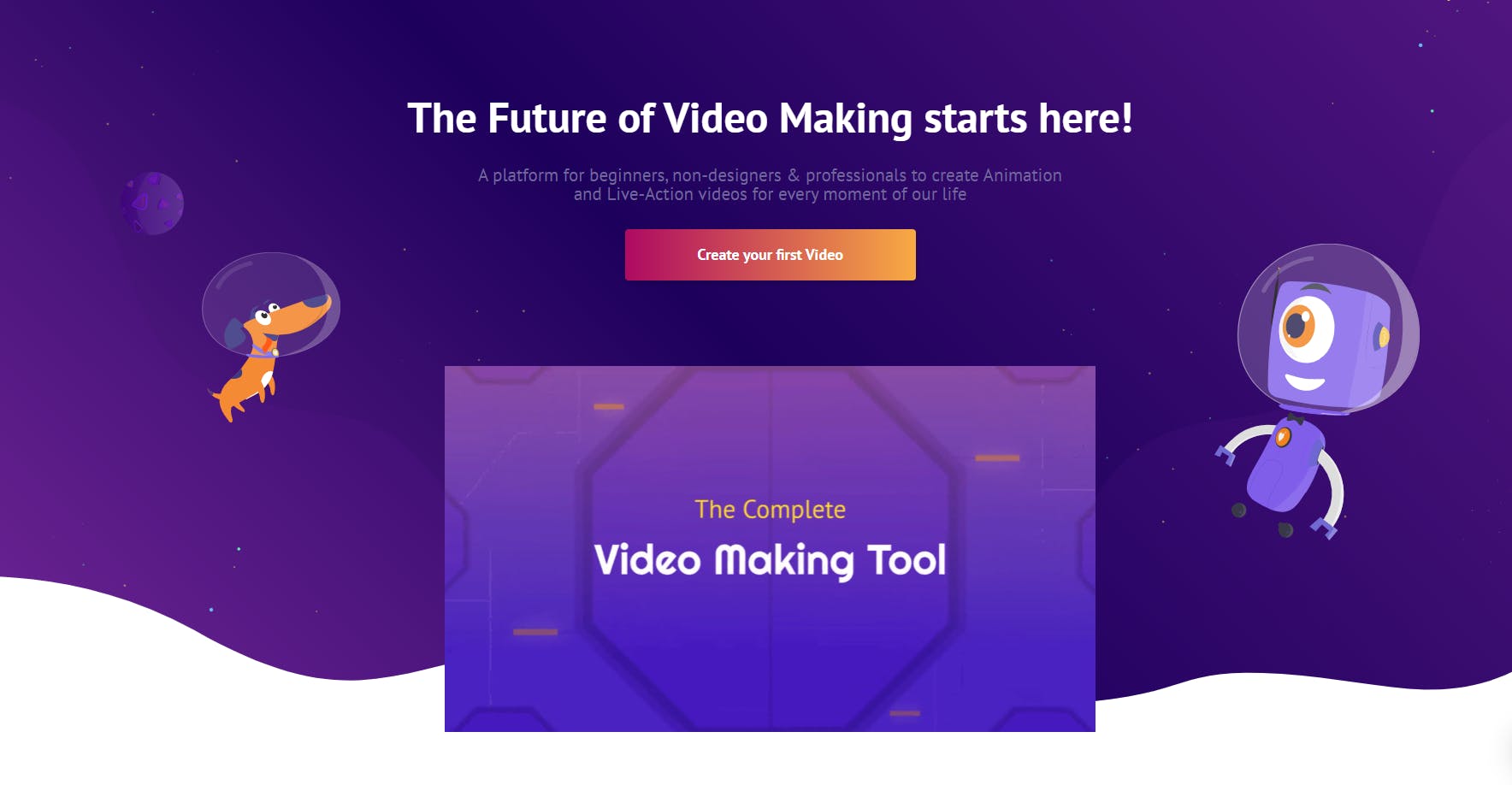 Animaker Review
Animaker is our #2 choice for online animation software platforms. By creating an account, you're joining over 5 million people that have created awesome animated videos by themselves. 
Animaker lets teams at startups to fortune 500 use a simple drag-n-drop interface to collaborate and create stunning animated videos. It offers one of the world's largest animated libraries, which is ideal for companies looking to keep ahead of the curve with content creation. Along with that, it offers neat and clean tutorials to help the user through the animated video creation process. 
You can choose to use the online animation platform for free and create videos up to a length of 2 minutes. If you'd like the watermark removed you can select one of their personal, startup or business plans ranging $12/month to $59/month. 
We'd recommend their most popular Business Plan, as it includes a lot more animated elements that you can add into your videos, and it's the first to include full HD and commercial rights for the content you're creating.
With Animaker, it's effortless to start with a template, personalize it to make it your own, and export your videos for your website or social media. 
Animaker Pricing
Animaker has a free pricing tier, with 3 other price points to suit your needs: 
Free - $0 - Includes watermark
Personal - $19/month
Startup - $35/month
Business - $59/month (Most Popular)
BEST PLATFORM FOR LOW TECH MARKETING TEAMS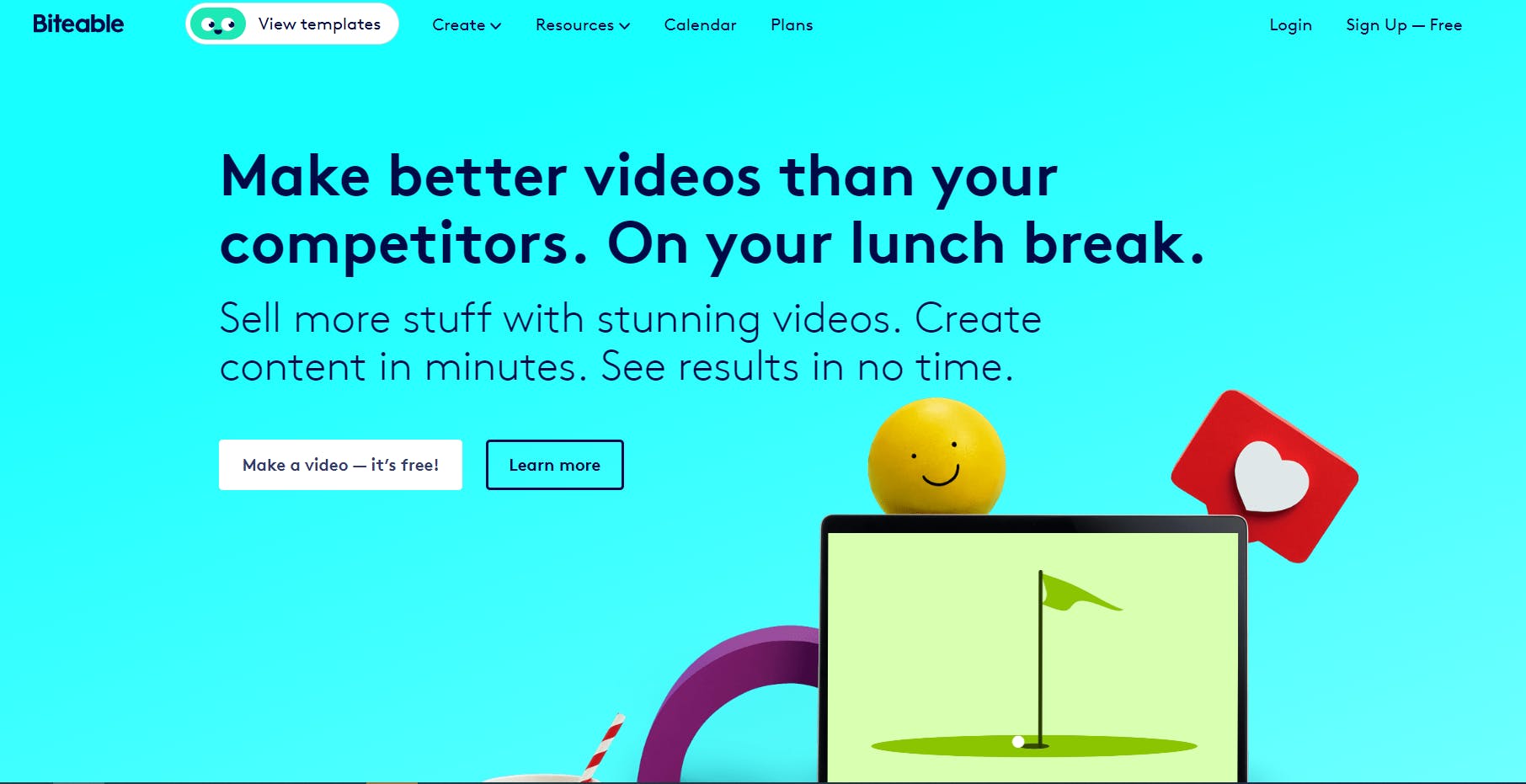 Biteable Review
Biteables's our #3 choice for online animation software platforms. By creating an account, you're joining over 5 million marketers that love the biteable video maker for creating beautiful online video and animations. 
Biteable is great for marketing teams looking to create short animated videos with text. It's the perfect solution for non-technical users that aren't looking for something super sophisticated. There's no voice-over, and there are limited customizations, but for those that want to give everyone on a marketing team the ability to create video content, Biteable is the animation platform for you. 
You can choose to use biteable for free forever, but the video's will be watermarked. We'd suggest trying the free plan, and then upgrading to the Starter plan for $19/month when you're ready to export your video project. This will allow you to export the animated video, but also give you access to 800,000 more pieces of premium content to add to your next videos. 
Rather than give you a large selection of templates to choose from, Biteable starts by giving you a great way to find a template by asking you to choose why you're making the video. 
Once you choose a template, biteable allows you to edit the text of the video, and walks you through how to do so directly in the app. It also allows you to quickly choose colors, audio, and then preview the final result. 
After you've created the video, biteable gives you the option to download the video, and share it with your colleagues on the biteable platform. 
If you're marketing teams looking to create content quickly to add to social and digital channels, biteable is a great place to start. 
Biteable Pricing
Biteable offers a free plan, as well as 3 other prices to suit your needs:
Free - Includes watermark
Starter - $19/Month - 1 video export/month
Plus - $49/Month - 3 video export/month
Unlimited - $99/Month - Unlimited
BEST FOR ANIMATED VIDEOS OR PRESENTATIONS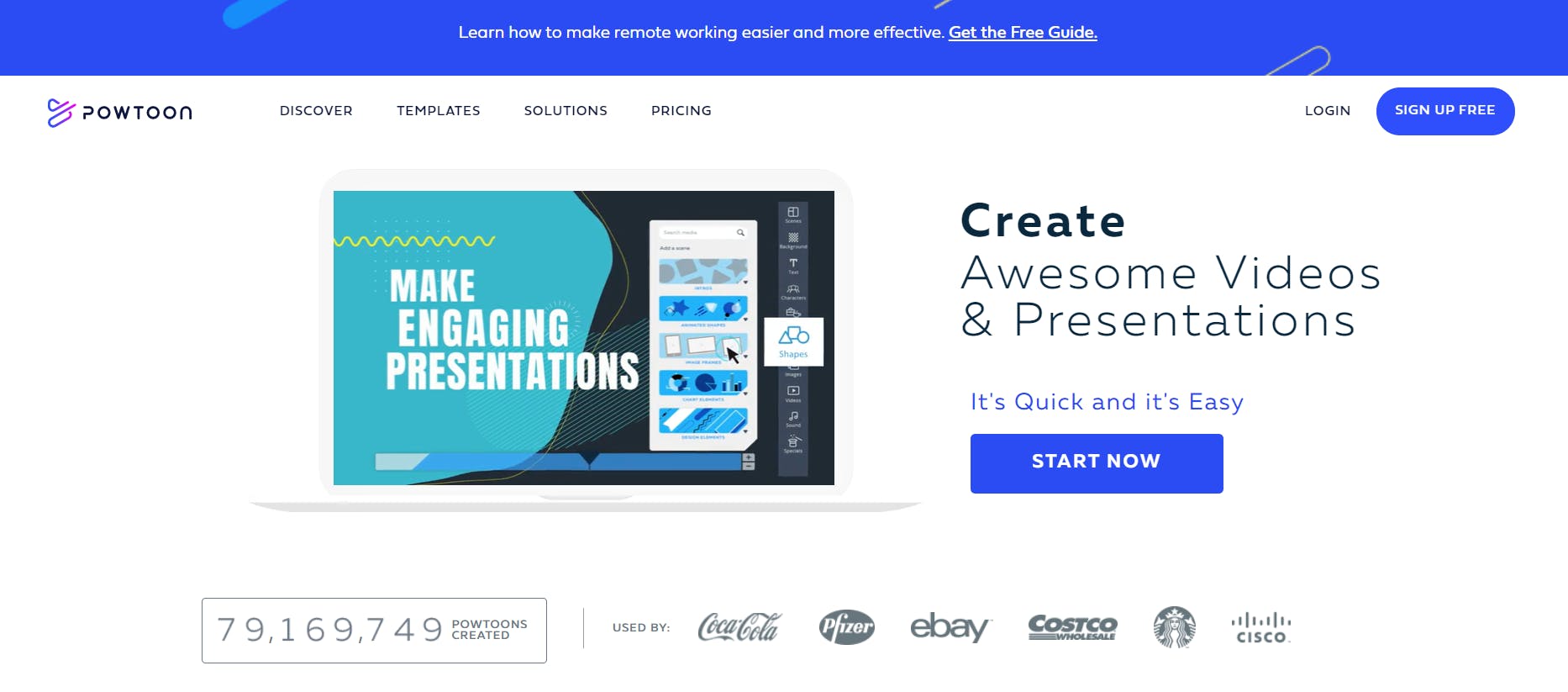 Powtoon Review
Powtoon users have created over 78 million animated videos and presentations through the powtoon platform. 
Powtoon empowers marketers and designers to create animated videos and presentations in under 20 minutes. We've found that people tend to love powtoon because of the useful variety of templates and animation effects that make it very quick to make animated videos. We've found the interface, colors, and design is very clean and user friendly and would recommend this product to individuals looking to create animated videos or presentations.
Because of Powtoons ability to create both animated videos, and presentations, it's great for companies that are looking to use the tool across teams. Common use cases for powtoon include creating animated videos for Marketing, IT, Training, HR and also for creating powerful visual reports. It's drag and drop editor makes it easy for teams to pick-up but it also includes some great features like a simple style chooser, exporting to youtube, facebook, wisita, and vimeo, and the ability to save as a gif or publish as a Powerpoint or PDF. 
Powtoon pricing includes an option to use it for free forever. However, like other animation software, Powtoon watermarks their logo on the free tier. Because of this, we'd suggest you use the Pro Plan, which starts at $19/month when you purchase an annual plan. The Pro plan gives access to both 24/7 support and commercial user rights which is important if you're using the animated videos for your marketing channels. Powtoon offers steep discounts on annual pricing so we'd highly suggest you consider it when evaluating the Powtoon pricing. 
Powtoon Pricing
Pro - $19/month
Pro+ - $29/month
Agency - $99/month
BEST FOR WHITEBOARD EXPLAINER VIDEOS

VideoScribe Review
VideoScribe is the perfect solution if you're looking to create whiteboard style animation videos or explainer videos for your marketing, education, or training needs. By choosing VideoScribe, you're joining 2 million users that are creating over 4000 daily videos.
The overall user experience for VideoScribe is superb. The animation software platform includes a lot of useful images, sound clips, icons and animated gifs. The user experience is so simple with VideoScribe that we believe you wont need to read through any instructions to get setup and going.
The key differentiator we've found in completing the VideoScribe review, was its sole focus on creating whiteboard videos. This is great if you're looking to create quick and powerful explainer videos.
VideoScribe Pricing
VideoScribe is one of the few animation software platforms that does not include an unlimited free trial. While the free trial is capped at one week, the annual pricing is very competitive at 14/month compared to other animation software pricing.
Videoscribe pricing plans:
Free trial - Capped at one week
Monthly Plan - $35/month (recurring payment)
Yearly Plan - $14/month (recurring payment)
One off - $800 (one off payment)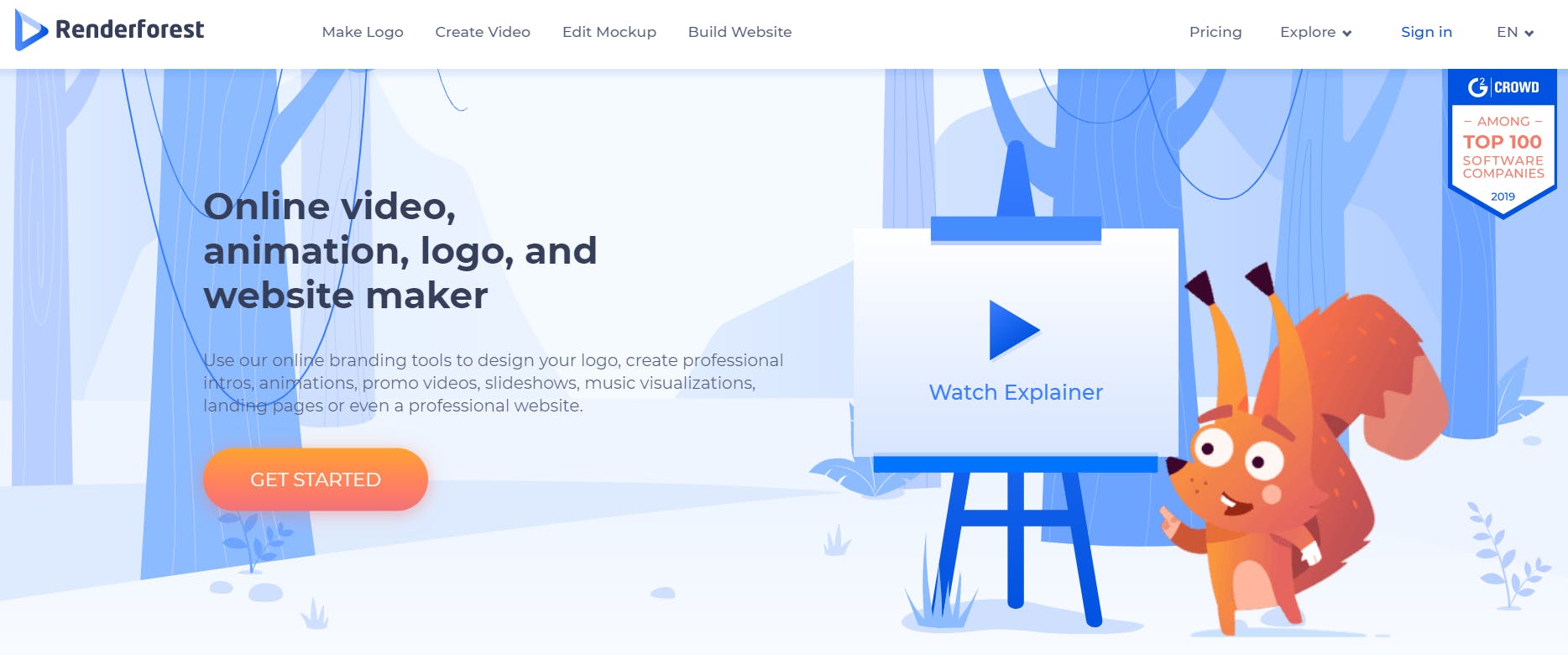 Renderforest Review
Renderforest Video is an online video and animation maker for creating explainer animations, intro videos, infographics, music visualizations and more in only a few minutes. By using renderforest, you'll join 8 million renderforest clients creating animations online.
Renderforest is an online tool for creating your intros, explainer animations, promotional videos, slideshows, music visualisations, video CV and even your own logos right in the cloud. Renderforest animation focuses on flexibility and quality, helping you create professional videos in minutes. They have a massive video template catalog that provides a good starting place to start editing your own animations online. 
Given Renderforest is an online animation software platform, all the editing process is done online, using their tools and cloud storage. On Renderforest, you can customize your animation with images and videos, adjust them with a color pallet and change text.
Renderforest has created a variety of features that extend explainer videos, like the ability for you to create your own logos directly within the platform. 
Renderforest Video Maker Pricing
Renderforest has an interesting pricing model compared to other companies in the animation software category as they seem to price based on the export quality of the videos. Given the need for high quality video within your marketing needs, if you need the watermark removed, we'd suggest you go with the 720p 14.99/month plan, as consumers expect higher quality video content in 2020.
Renderforest Pricing Plans:
Free - Includes watermark
360p - $9.99/month 
720p - $14.99/month
HD1080 - 19.99/month
Final Thoughts
Hopefully the above gave a bit of an overview of what we see as the top 6 platforms in the online animation software space. We'll continuously be looking to update the content as the platforms update their offerings - and as mentioned above, we'll be creating comparison functionality so that you can compare the platforms side by side on StackAmplify soon!
Let us know if there's anything that we missed or if there's a software you'd like us to highlight - drop us a note at partnerships@stackamplify.com