Website visitors that convert to customers are the lifeblood of your online business.
If you run a portion or even your whole business online, chances are you have visitors, users, and customers that have questions for you. In older times, once they had these questions, they would need to call, email, or submit an issue in a form on your website to get an answer from you. Or even worse (and more likely), they would leave your site without ever coming back. 
To make things simpler, and to provide a better communication experience for your website visitors, users, and customers, you can use live chat software. 
The need for live chat is increasing, with 64% of small businesses now having a website, and millennial's now making 60% of purchases online. 
Live chat platforms are getting a lot more popular, and for a great reason. 
They help you to provide an instant communication experience with your user - the lifeblood of your business. They also have automation, to help users find answers on their own with automated personal responses and integrated knowledge bases. They also make it simpler to prompt users with valuable and targeted information and provide a more seamless communication experience. 
To help you make the best decision, we've reviewed and ranked the best live chat software. Features, price, functionality, and collaboration of insights from a variety of existing customers drive the reviews. 
Let's get moving. 
What is the best live chat software?
BEST FOR SMB's LOOKING FOR GREAT FEATURES AT A PREDICTABLE PRICE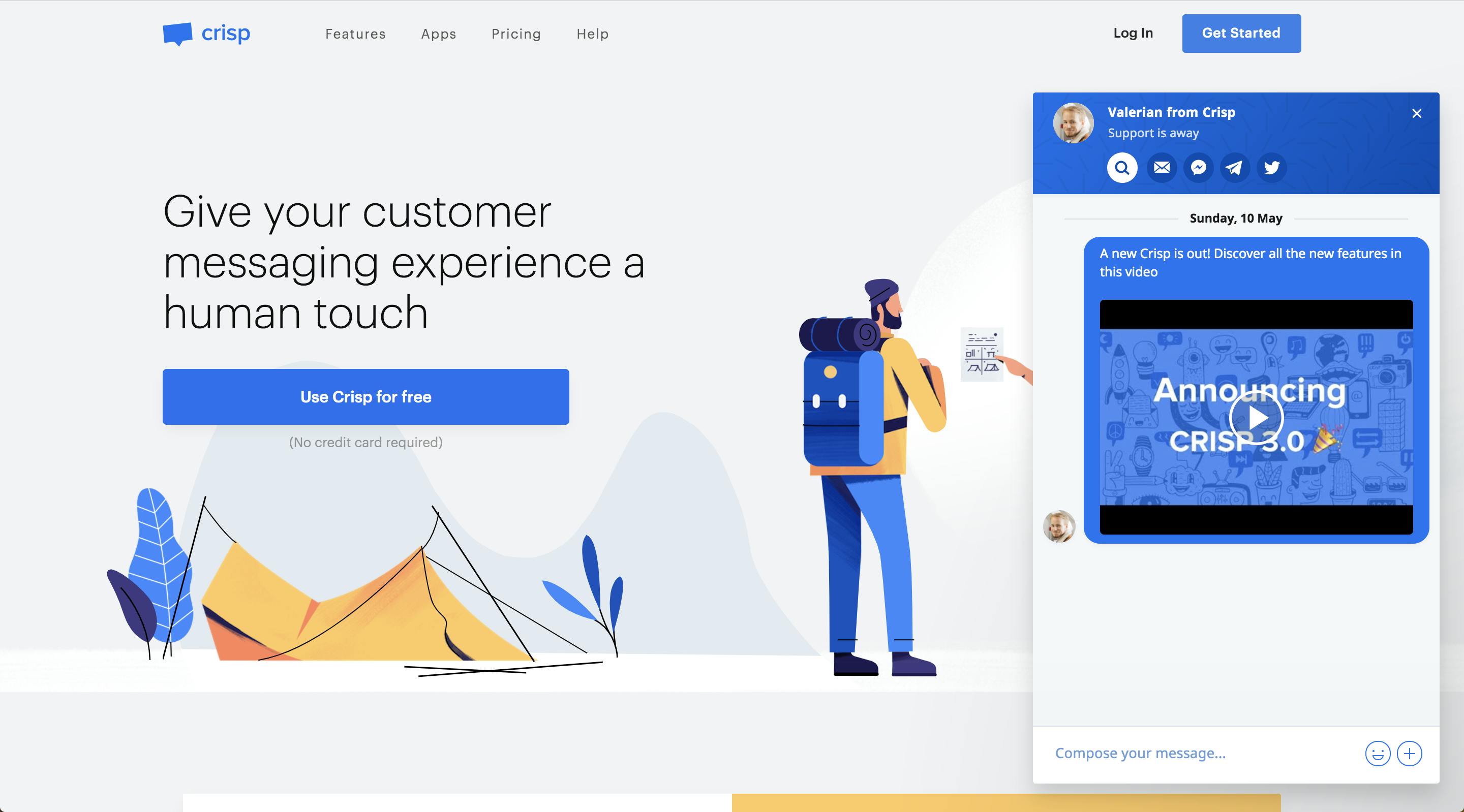 Crisp Chat Review
Crisp is a newer entrant to the live chat market, founded in 2015. It offers some great features and functionality commonly seen in the live chat space for a very reasonable price. Its live chat can create a great communications experience as it allows you to add workflows, embed videos, and link to its knowledge base.
We'd recommend crisp if you are a startup or a small or medium-sized business looking to add live chat with a robust set of features at a reasonable and predictable price.
Crisp Chat Key Features
Workflows - create advanced workflows and chatbot scenarios to help automate your customer onboarding end-user live chat experience
Knowledge base - the crisp knowledge-base integrates well with live chat allowing users to access knowledge base articles and solve their issues directly from the live chat.
Videos - embed personal gifts and videos directly into the live chat custom responses.
File sharing - share documents images and different files directly from the crisp chat widget
Social Integrations - easily connect the crisp live chat to different social networks, including Twitter and messenger. 
Crisp Chat Pros
It provides a best-in-class API to connect with your systems
Has an interface is clean and simple and not over complicated
Comes with the Unified Inbox which allows your team to collaborate and respond to user questions
Allows you to see the user's message as they are typing
Comes with a custom email address so you can send emails from your domain
Provides the ability to send email campaigns following up from chat messages
Comes with a knowledge base that easily integrates with the chat 
You can easily customize The Branding the live chat language and the agent profile 
Crisp Chat Cons
No way to have new conversations with the same user, old conversations add to the existing one when they really should be separate
The mobile experience could use an upgrade
The tools can be a little hard to understand at first.
Crisp Chat Pricing
Crisp has a fantastic pricing model. Its free plan offers two seats forever, enabling you to get started quickly and easily. It's Pro Plan is excellent for early-stage startups as it's $25 per month and includes up to four seats. Its unlimited plan is unique for companies that require full-fledged features and solutions for customer communication and is only $95 per month, which includes unlimited seats.
BEST FOR CUSTOMER SUPPORT TEAMS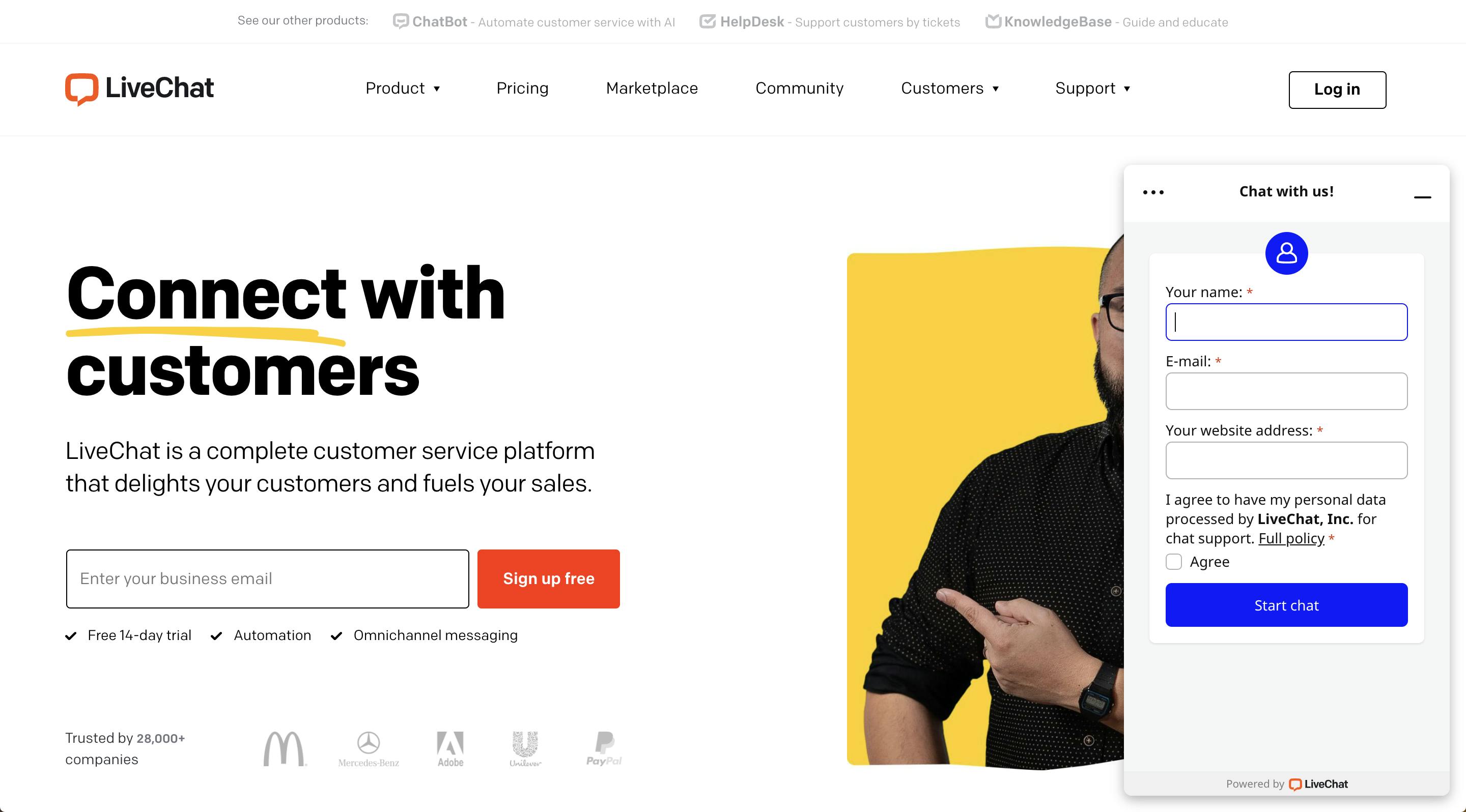 Livechat Review
Livechat is one of the most popular live-chat solutions, with over 200,000 websites using it for support, generating over 27 million monthly chats. It's a great option for support teams that are looking to add more convenient channels for their customers to communicate with them. While it can handle sales and lead generation, it is definitely built and suited for customer support. 
Livechat Key Features
Integrations - Livechat has a large marketplace and enables you to connect to 180+ tools from CRM's, to e-commerce sites, or email marketing platforms.
Chatbot - Automate user conversations using AI within the Livechat chatbot widget.
HelpDesk - Gives you the ability to convert chat requests into tickets for support and product teams.
Knowledge Base - Link directly to support articles to help users answer their own questions directly from the chat.
Reporting and Analytics - Understand how you and your agents are doing. Offers quick access to stats like total chats, new tickets, and ticket satisfaction, helping you to find opportunities to improve your customer service. 
Livechat Pros
Provides apps for Windows, macOS, Android, and iOS so your team can use Livechat on desktop, but also on mobile when on the go
Allows you to save canned responses to make it easier to respond to commonly asked questions
Comes with custom greetings, eye-catchers, and chat buttons
Allows you to share images and files with users
Comes with notifications, chat transfers across teams and the ability for users to rate chat upon completion
Provides chat transcripts that your team can report on and search
Offers customization for both the branding of the widget, as well as custom images, names, and roles of the agents that provide a more personal agent experience
Allows you to see what the customers are typing so you can search before they send and respond even faster
Livechat Cons
When capturing emails, live chat visitors need to fill in their details before the chat has actually started
The UI and UX of the mobile application aren't extraordinary
Livechat pricing
Livechat has four different pricing tiers. The pricing is excellent for support teams because you only pay for seats that are simultaneously logged in. That means that if you have a support team of 3, but only two are ever on at the same time, you only need to pay for two seats. Depending on how you run your support team, this can be a subtle area to save on pricing. Here are the four pricing tiers:
Starter - $16/month (Annual) or $19/month (Monthly) / Agent
Team - $33/month (Annual) or $39/month (Monthly) / Agent
Business - $50/month (Annual) or $59/month (Monthly) / Agent
Enterprise - Contracts for fortune 500 companies
BEST FOR TEAMS THAT CAN AFFORD A WORLD CLASS USER EXPERIENCE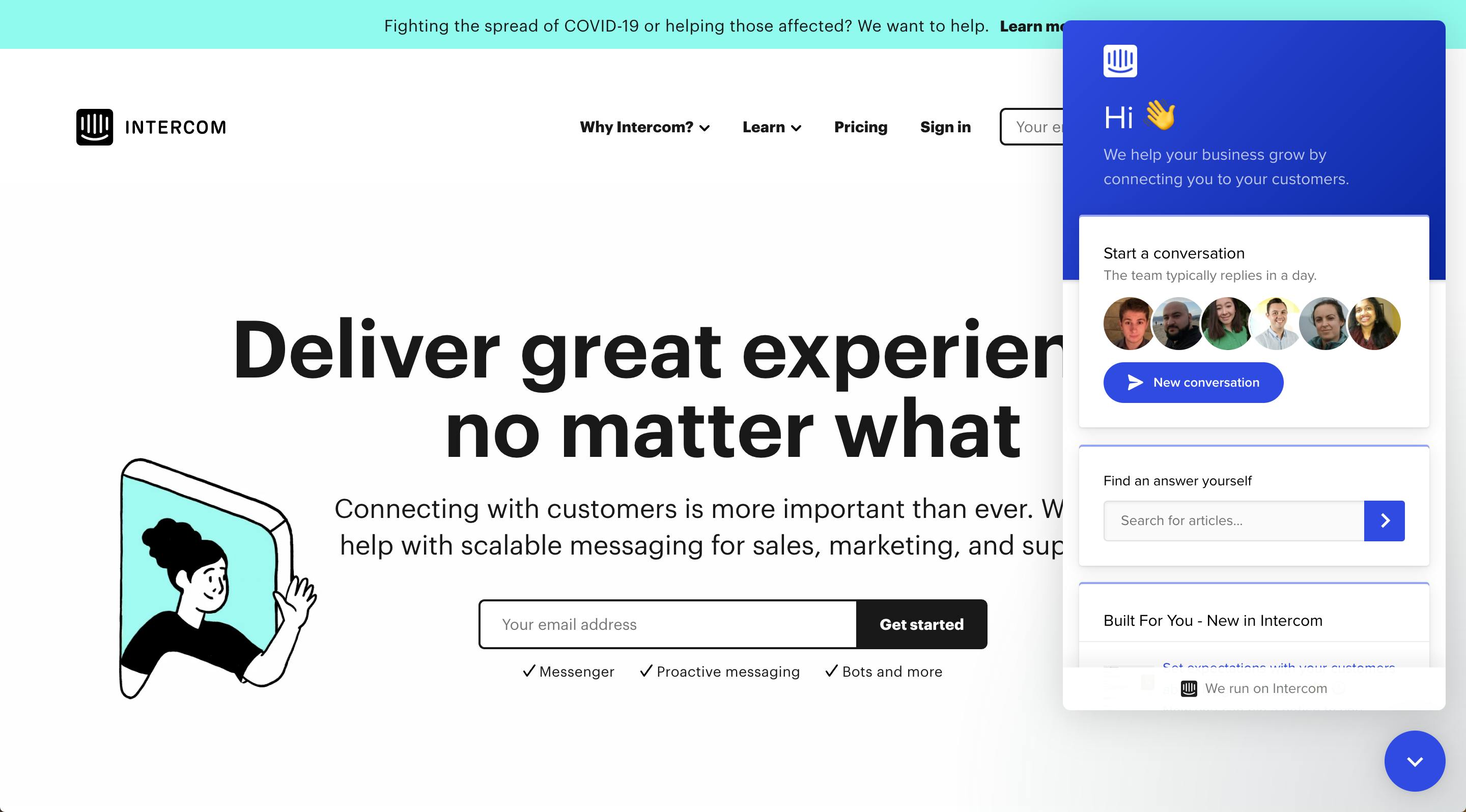 Intercom Review
Intercom provides a best-in-class chat experience for your end-users. It's the best-designed platform in the market. If you follow the live chat space, you'll quickly notice that Intercom leads the charge in innovation and other providers often copy Intercoms innovative design and functionality. It's extremely easy to onboard your team and also very easy for you to set up.
With it's new knowledge base and campaigns, Intercom can significantly enhance your user experience right out of the box. While the pricing can be steep as your team scales, if you can afford it, we'd highly suggest that you choose Intercom for your live chat.
Intercom Key Features
Custom styling - Intercom offers beautiful custom styling options, which include uploading a logo background color action color wallpapers and even choosing if you'd like to add the intercom sound. 
Office hours - Intercom not only allows you to set office hours but also sets default reply times to enable your users to understand when they can expect a reply.
User experience - Intercom has the best user experience in the market and is often driving new Innovations within live chat space. 
Tracking user data - Intercom provides a variety of standard attributes that can be used to track user data. This user data comes in handy for customizing chat responses as well as creating personal email campaigns for users based on attributes.
Campaigns - Intercom offers the ability to send a series of emails or in-app campaigns based on their behavior. This allows you to create a seamless user experience to match the user's actions rather than sequenced timelines. 
Intercom Pros
It comes with a knowledge base that integrates nicely with the chat platform. This enables your team to respond with helpful articles and improve the user experience
Offers the Best in Class experience with custom styling and beautiful UI
Provides the ability to remove branding when upgrading to a Premium plan
Allows teams to operate in their own space enabling teammates to manage many conversations
Comes with the ability to block users that are malicious
Allows you to create trigger chats
Comes with tagging so that you can segment conversations to review in the future with your team
Offers Best in Class reporting about performance conversations and boils up some fantastic metrics that your team leverage and learn from
Provides chatbot technology called operator which allows you to resolve questions and automate everyday tasks
Offers mobile apps on android and iOS so your team can communicate with users directly off of their phones
Intercom Cons
Doesn't offer ticket management for product request or bugs
The pricing curve is Steep and can get very expensive as your user volume increases
While the email templates are beautiful, they can be challenging to customize 
Intercom Pricing
Intercom has four types of pricing plans. The first plan offers basic chat and messaging. For $39 a month, a single user can access basic chat and message, and if you need more than one user, the growth plan offers up to 5 users for $99 per month.
To remove the branding, you'll need to upgrade to an Intercom accelerate, which is quite steep and starts at $499 per month. 
While the intercom pricing increases quite massively as you scale, we'd highly recommend you test out a free trial of the single user Start Plan if you only need an individual user. This will give you a good glimpse into the intercom platform and quickly allow you to provide a best-in-class live chat experience to your users.
BEST FOR E-COMMERCE SITES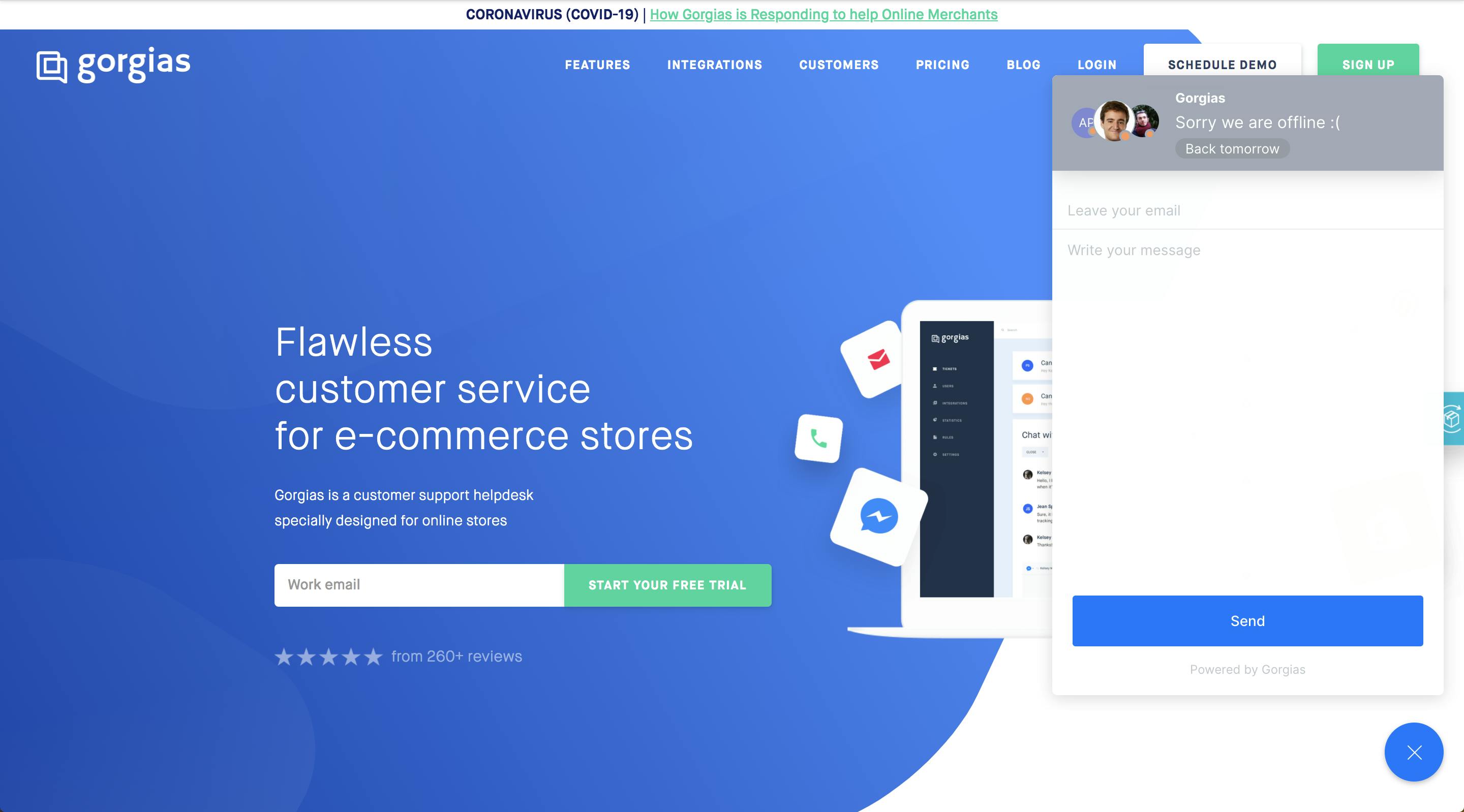 Gorgias Review
Gorgias provides the best solution for e-commerce companies looking to adopt a live-chat solution. The focus on e-commerce has enabled its team to develop a rich set of features built to improve the experience and ease of use for e-commerce teams using live chat. These include the ability to view e-commerce specific data and act on it, all in one place. The layout and functionality shifts support teams into a profit centre, and provides a great experience to both support, and proactively help sell website visitors.
If you are looking to implement a live-chat solution for Shopify, Magento, or another e-commerce platform, we'd highly recommend you try Gorgias.

Gorgias Key Features
Connected support channels - Connect and manage tickets in the same way across a variety of channels, including email, Facebook messenger, Instagram messages, and even text messages. 
E-commerce Integrations - Enrich your chat with information on the user automatically pulled from Shopify, Woocommerce, Magento, and many other e-commerce platforms. 
Automation - Easily set up rules based on the data automatically pulled through the e-commerce connection, and a variety of other apps to automate a portion of your responses. 
Chat Campaigns - Trigger live chat conversations with website visitors, give them personalized advice, and help guide them through to the checkout. 
Gorgias Pros
Connect to a variety of support channels and manage them from a single platform.
Ability to automatically sort, tag, and assign tickets based on attributes
It comes with a targeted list of integrations so you can connect and enrich your chat with attributes from a variety of other platforms.
Provides tags, agent assignment, and internal notes to attribute, sort, and collaborate on tickets.
It offers deep integrations with Shopify and other e-commerce platforms to provide clear information on the customer, orders, tracking information, and more.
Comes with built-in platform actions so you can issue refunds, cancel orders, or modify customer information directly out of Gorgias
Ability to measure customer satisfaction 
Provides critical KPIs and reporting to monitor and help improve your team's performance 
Offers revenue statistics to convert your support team into a profit center
Gorgias Cons
Can sometimes be a little tricky with the integrations
Searching functionality could be improved
Gorgias Pricing
Gorgias has four plans: Basic, Pro, Advanced, and Enterprise. The basic plan only includes Shopify, and you'll need the pro plan if you use Magento.
They have a flat monthly price, which includes unlimited users and up to a specific volume of tickets. Once you exceed the ticket volume in the pricing tier, you pay an additional price for extra tickets.
While this is different from typical seat-based pricing in the live-chat space, we really like the way Gorgias prices, with a value placed on tickets and your actual usage of the app rather than needing to pay per seat.
Monthly Pricing:
Basic - $60/month up to 350 tickets. +$25 for each extra 100 tickets. Shopify.
Pro - $300/month up to 2000 tickets. +$23 for each extra 100 tickets. Magento.
Advanced - $750/month up to 6000 tickets. +$14 for each extra 100 tickets.
Enterprise - Custom
BEST FOR B2B SALES AND MARKETING TEAMS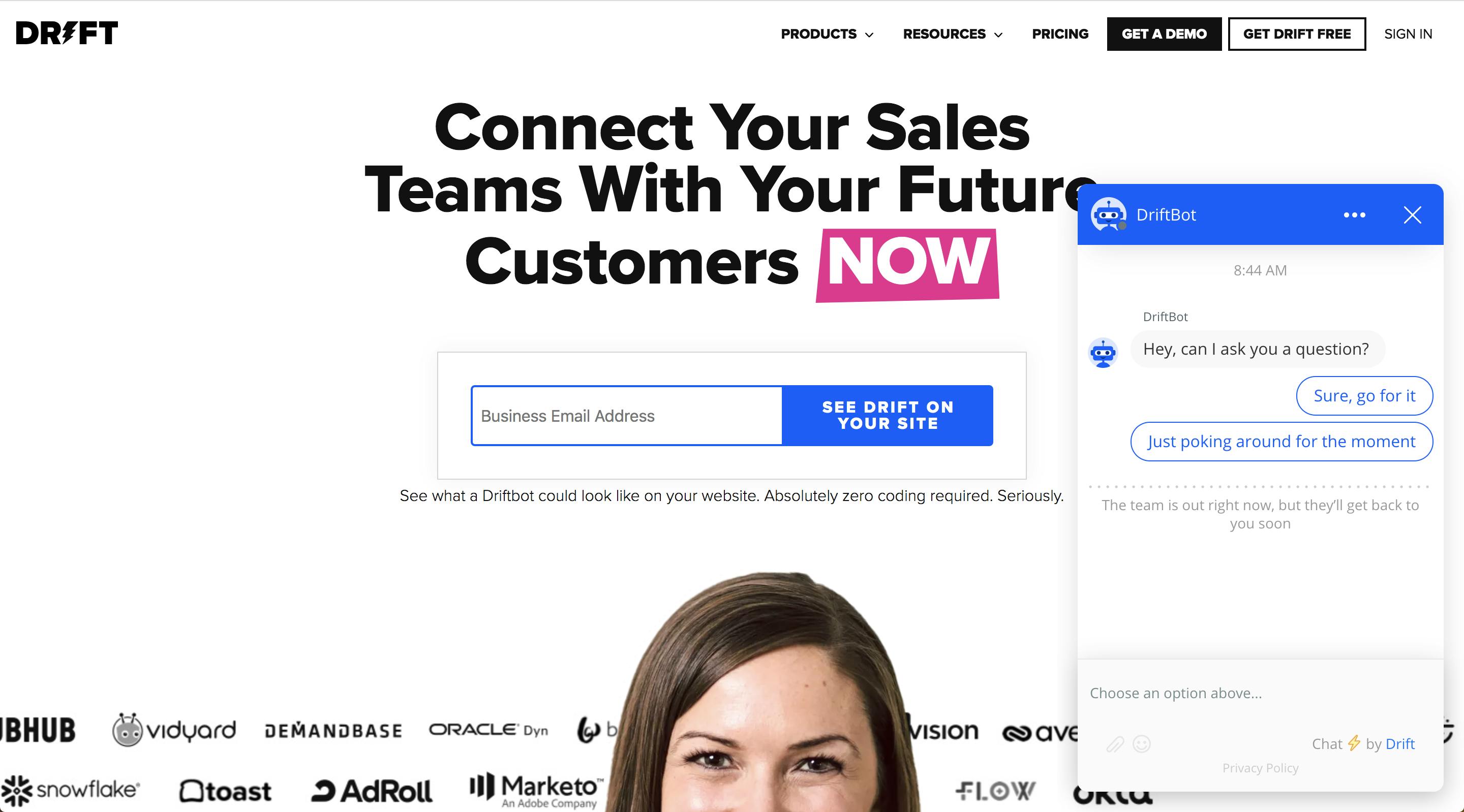 Drift Review
Drift has coined its own word to describe what it's doing in the space - "conversational marketing". This motto plays nicely with where Drift fits best into organizations as it's really best for Sales and Marketing. Its core feature set is built to capture and qualify leads. It also has some excellent features allowing visitors to easily book calendar meetings directly with your team and provides upgrade paths to account-based data like the companies that anonymous website visitors are coming from. If you're in Sales and Marketing and looking to drive more leads from your landing page, we'd highly suggest you try a free trial of Drift. However, if you'd like a live-chat product for multiple teams, including customer success and support, you'll probably be able to find better options for a better price. 
Drift Key Features
Lead Capture - Drift Live Chat is great at capturing leads and offers excellent functionality allowing users to book meetings directly with teammates through the chat. 
Targeted Chats - You can use specific targeting to choose which website visitors you want to engage with live chat.
Chatbot Automation - Drift will analyze your conversations and have a team train a chatbot to automatically respond to questions that your buyers are asking.
Account-Based Marketing - Enables you to notify specific sales reps if one of their account-based Marketing sales accounts is either on the site or engaged in a drift chat.
Drift Pros
Provides data enrichment of the users visiting your website
Enables users to book meetings directly out of the chat widget
Allows you to create custom profiles for your agents
Comes with a lead bot that helps qualify inbound leads
Enables you to Target individual accounts or users with specific attributes
Provides agent reporting allowing you to improve your quality of customer conversations
Comes with office hours to change to email capture while agents are offline
Provides the direct integration to Slack
Allows you to block specific IP's to remove malicious users
Offers a variety of out-of-the-box Integrations including HubSpot 
Drift Cons
While the chat loads very fast sometimes the agent application is slow to load
Elements of the Playbook can be difficult to replicate and need to be built by scratch.
Drift Pricing
Drift offers a free plan, which is excellent if you'd like to take a test-drive of the product, or if you only need a live-chat and calendar for one user. 
The rest of Drift's pricing is user-based, which can become quite expensive:
Essential - $400/month + $40/month/user
Premium - $1,500/month + $80/month/user
Enterprise - Custom
BEST FOR TEAMS LOOKING FOR A LOWER COST OPTION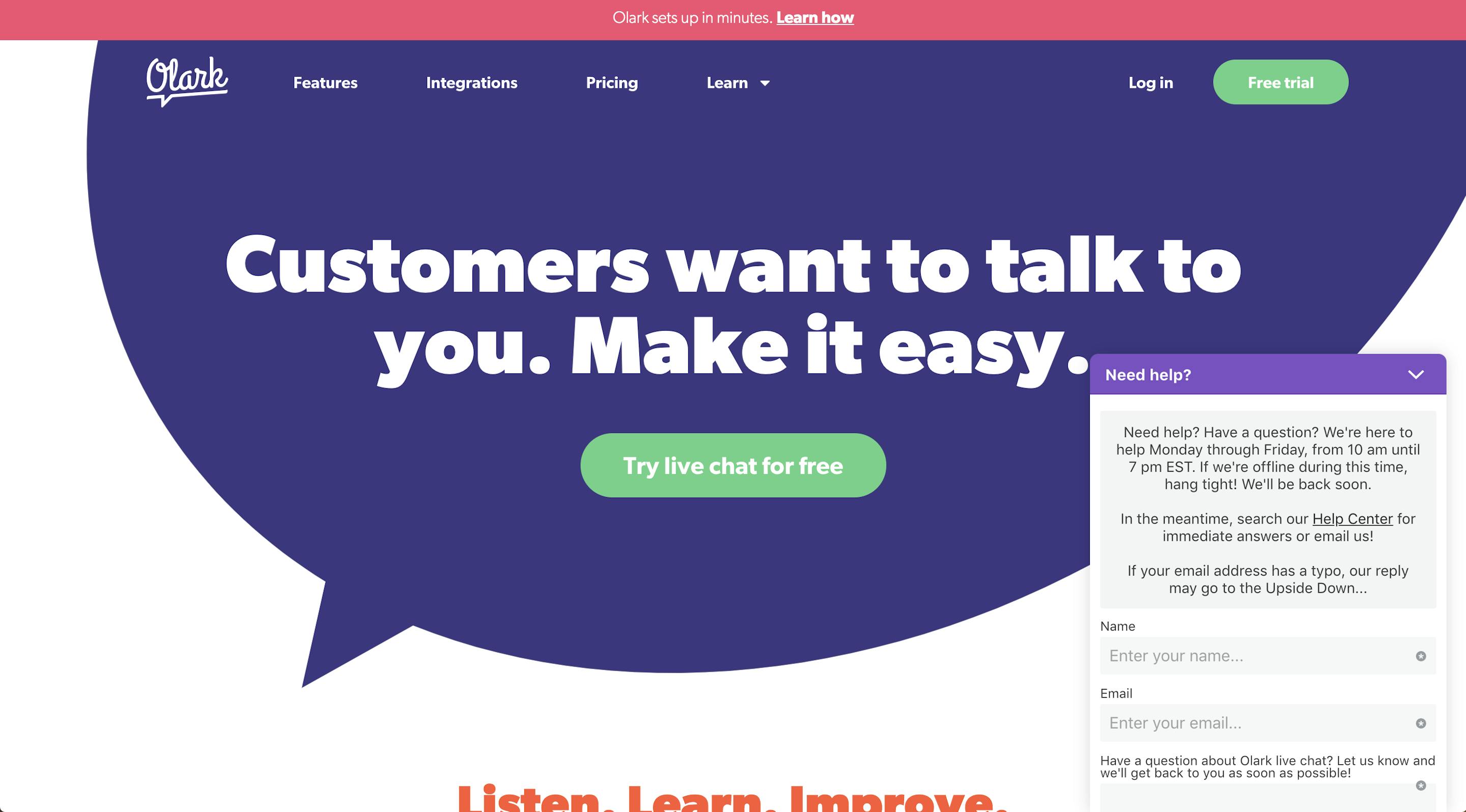 Olark Review
Olark, released in 2009, is older compared to the rest of the live chat market. Olark is a good option if you're looking for a free chat solution, as it's well-designed and offers a free tier with a reasonably priced upgrade path.
Olark Key Features
Custom forms - You can add in custom forms that display before starting a conversation to gather context about the user.
Triggered messages - Enable triggered messages that automatically appear to users. Hence, you only need to respond once somebody has started a conversation.
Simple customization - Incorporate brand colors using a simple color wheel. Also, choose custom languages and allow for custom pictures of your agents to create a more personal user experience.
Unlimited conversations - while the free plan only offers 20 chats per month, the paid plan offers unlimited conversations.
Transcripts - Olark offers the ability to save transcripts that are searchable for your team.
Olark Pros
Offers shortcuts that you can use to create pre-written templates to respond to users
Provides a simple user interface to make it easy to learn and use
Allows you to track the path that users follow through your website
Comes with an out-of-office feature called away that shows the user how to contact your company and links to commonly asked questions 
Provides a top-notch customer support team that is very responsive and helpful
Offers analytics of the user's browser and how they're using the product
Comes with GDPR compliance and data encryption
Allows blocking IP addresses of malicious users
Olark Cons
There is no way to add a queue, so guess can get a little impatient while your team is busy
Doesn't allow you to share images
It can be challenging to add HTML clickable links 
Olark Pricing
Olark has a great pricing model. You can invite your whole team and access most features on their paid plan. The monthly plan is $19 per month per agent, the one-year plan is $15 per month per agent, and the two-year plan is $12 per month per agent. Olark also has power-ups like co-browsing, translation, and Social profiles that can be purchased on a monthly basis. 
BEST FOR TEAMS LOOKING FOR A FREE SOLUTION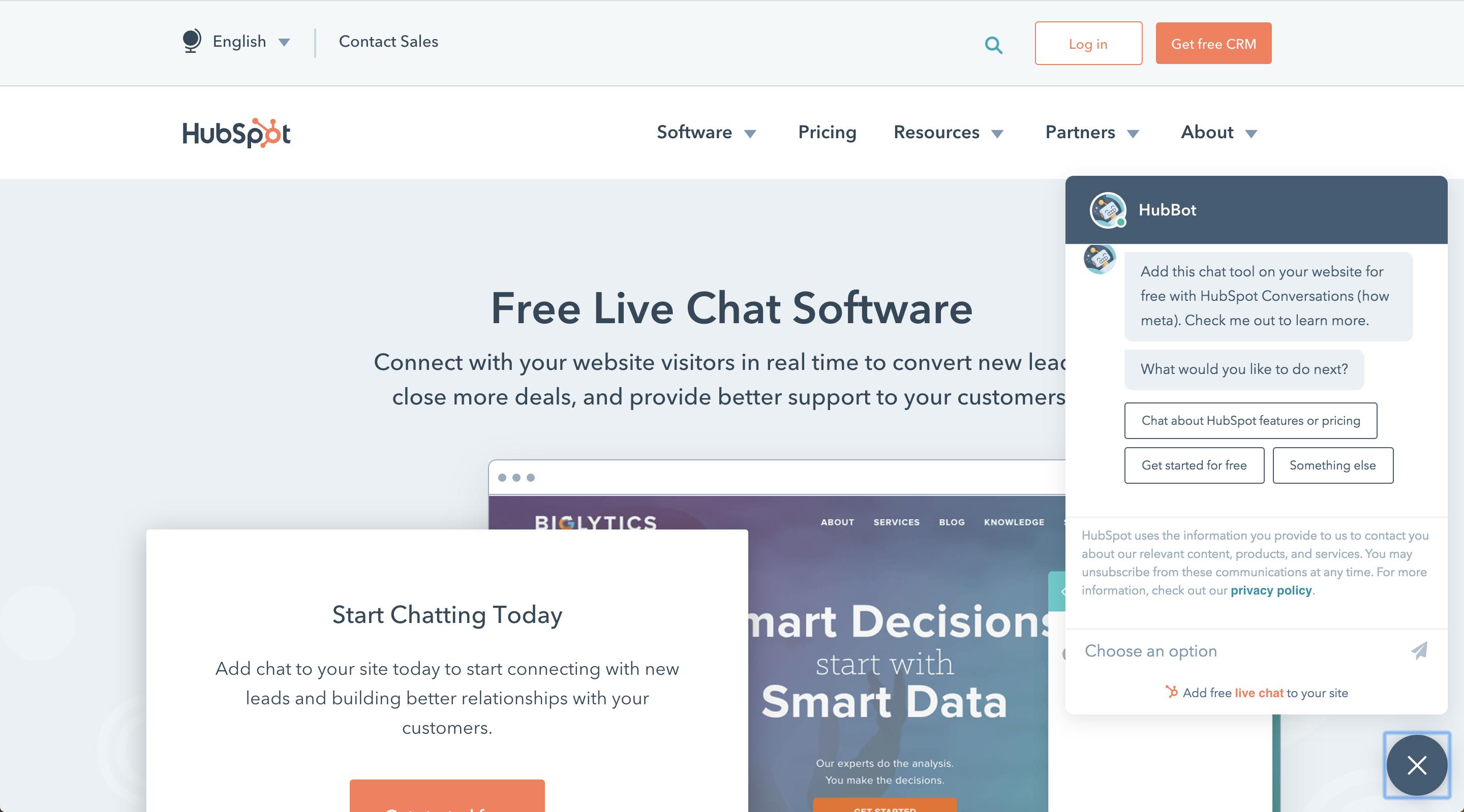 HubSpot Live Chat Review
HubSpot is one of the most successful inbound marketing, sales, and service software companies. Their live-chat is a freemium product that they've built to integrate nicely with their other products. It's lightweight and offers some of the standard and simple features that are popular in the live-chat space, like office hours, workflows, and calendar booking options. 
If you're looking for a simple live-chat product, HubSpot live chat is the right starting place as it's free. However, you'll likely want to upgrade or use a more robust live-chat solution in the future as your business grows. 
HubSpot Live Chat Key Features
Office Hours - Choose when you want the chat to allow for engagement, or when you're out of the office, use it to capture email. 
Universal Inbox - All chat conversations are stored in a universal inbox. The universal inbox allows HubSpot to enrich your chat data with data from the HubSpot CRM, giving your team more context for responses.
Slack integration  - Engage users directly out of Slack, and respond via slack conversations, or through the HubSpot mobile app. 
Style Chat Widget - Style the chat widget with your brand's color to match the look and feel of your website. Upgrade to remove the HubSpot branding. 
Calendar Booking - You can add a meeting URL from HubSpot directly into the chatbot chat flow to seamlessly book meetings with users.
HubSpot Live Chat Pros
Allows you to set office hours, and capture email when out-of-office
Offers the ability to edit the color of the chat widget to match your branding
Provides saved replies that you can access through snippets
Allows you to hide the chat widget outside of office hours
Offers triggered chats through "Chat Flows" to only show the widget to segmented lists based on data from your CRM, anonymous visitors, or contacts that are being tracked by HubSpot
Offers mobile apps for android and iOS so you can have conversations and access the HubSpot CRM directly off of your phone.
Allows you to convert conversations directly into CRM contacts
Provides compliance with GDPR
Enables integrating with a range of free and upgradable HubSpot features like HubSpot calendar booking
HubSpot Live Chat Cons
The chat can automatically end in some cases which creates a bad user experience
It's easy to miss some conversations if you don't set up the workflows properly
The chat widget can be confusing and frustrating for some users
Customization is limited
It can be challenging to target specific pages.
HubSpot Live Chat Pricing
To make this easy it's free. HubSpot has a free forever CRM plan, which includes live chat, unlimited users, and the ability to store up to 1 million contacts and companies.
Other good options:
Tawk
Zendesk
Freshchat
Manychat
BirdsEye
Podium
Octane AI
HelpScout
Smartsupp
Chatlio
Summary
Long gone are the days of filling out forms and waiting a week for a response. Live chat has filled a gap to provide a better communication experience for website visitors, but also created great workflows for sales, marketing, and support teams, and has converted support teams into a profit centre. However, all these tools have different use cases and are in tune with different types of online business. 
Therefore, there is no clear winner in the space, and your selection should be based on the area you are trying to improve communications in, the functionality you need, and the budget you have. For instance, if you are an e-commerce business, Gorgias is an excellent choice, but if you are solely looking for a support option, you may want to check out live chat. 
If there are any other live chat tools that you'd like us to review, please send us a message at partnerships@stackamplify.com