We get it - choosing the best learning platform to host your course on is tough. There are so many options out there that say they're the best that it can kinda be overwhelming. So we decided to go out and consolidate the list to 4 of the top choices in the market today - Kajabi, Teachable, Thinkific, and Skillshare - to make deciding a little easier.  
What's been really nice to see in the learning solution space is that most of the tools reviewed below are user friendly, intuitive, and will give you everything you need to enable a student to take your course, get quizzed, and certified while allowing you to maintain control over the course content, look, and feel. I guess what I'm trying to say is - between these four there are really no bad options! 
We're going to try to make sure this is an unbiased review - we're not going to be pitting the software against each other, we'll just be doing an analysis of each solution and ultimately letting you pick for yourself. At some point we'll also be introducing a comparison chart onto StackAmplify so you can compare the solutions side by side - but stay tuned! 
If you have any questions about any of the companies and their offerings, you can shoot us a quick message at partnerships@stackamplify.com or click through to the company offerings and ask their support teams directly!   
What is the best online learning software?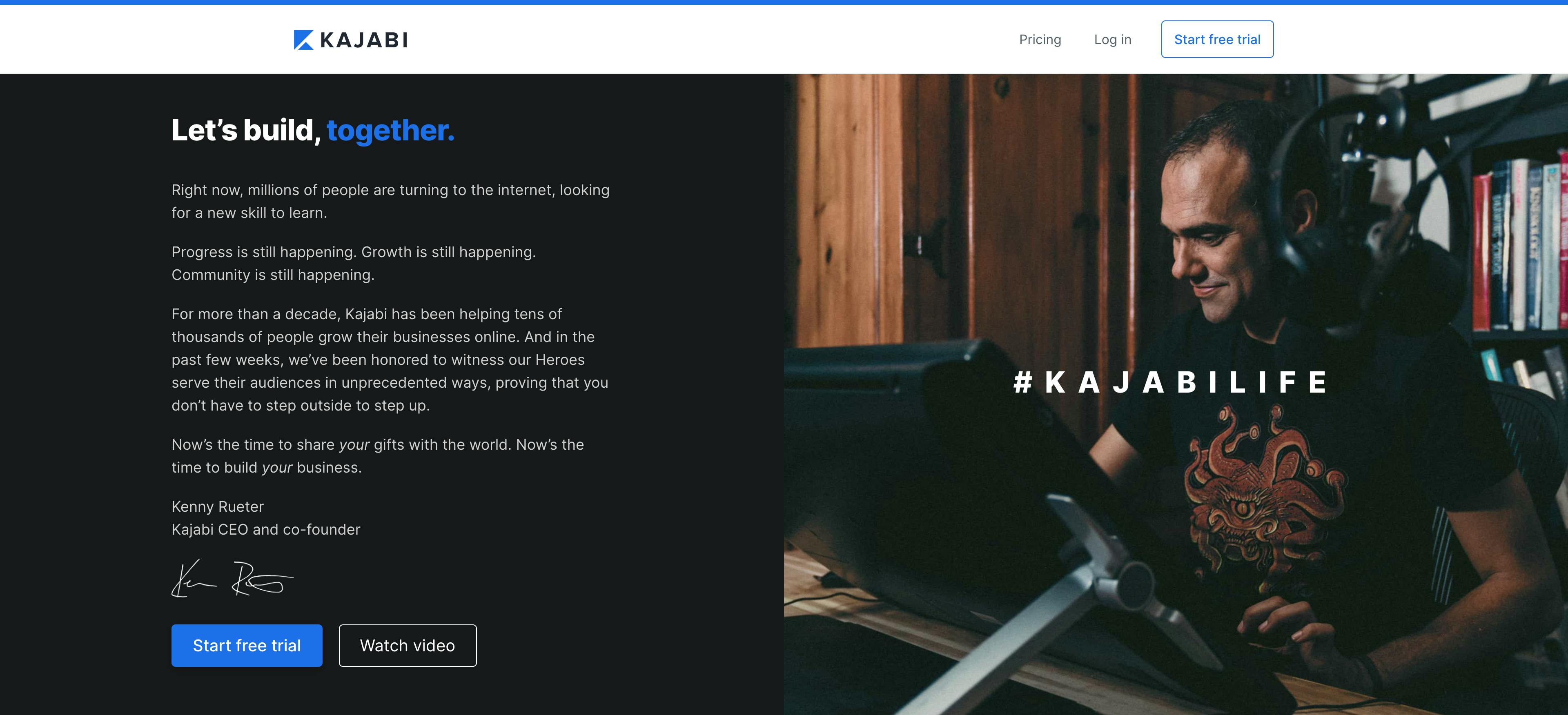 Kajabi Review 
Since Kajabi was founded in 2010, its customers have collectively made over $600 Million selling online courses about any topic you can think of. From courses about fitness to real estate investing, personal development to how to improve your tennis game, people from all over the globe are making money by selling their knowledge.
The best way to think about Kajabi is as an All-in-One tool that will help you package and sell your knowledge to others. The Kajabi platform allows you to build a website, create online courses, launch marketing campaigns, and manage your contacts and lists all from one place.
Using Kajabi - the hope is that you won't need any other software to run your own business. Using Mailchimp to send out email campaigns - no need, Kajabi. Wix or Squarespace for your website? Not necessary - it's all in Kajabi. Having all the functionality in one place will make things easier to track and maintain as you work to get your courses off the ground - however you will have to give up those shiny and glossy Squarespace templates. 
Having the landing page and email functionality in one place also allows for a really effective targeting. Once users sign up they can be tagged and grouped accordingly so that you can send personalized email campaigns and messaging, track the conversion of that messaging and ultimately increase adoption! 
Kajabi Pricing
Kajabi has three different pricing plans Basic ($119/mo), Growth ($159/mo), and Pro ($319/mo) - all three of the plans have 0% transaction fees.
The large difference between all three plans is how many products, pipelines, contacts, and active members you can have - but if you're looking to run something fairly small - the Basic or Growth plans will likely fit the bill. However with the Basic plan - you don't have the ability to remove the Kajabi branding.   

If you're looking to try Kajabi out - they have a 14 Day Free Trial that comes with every single plan - try it out risk free today!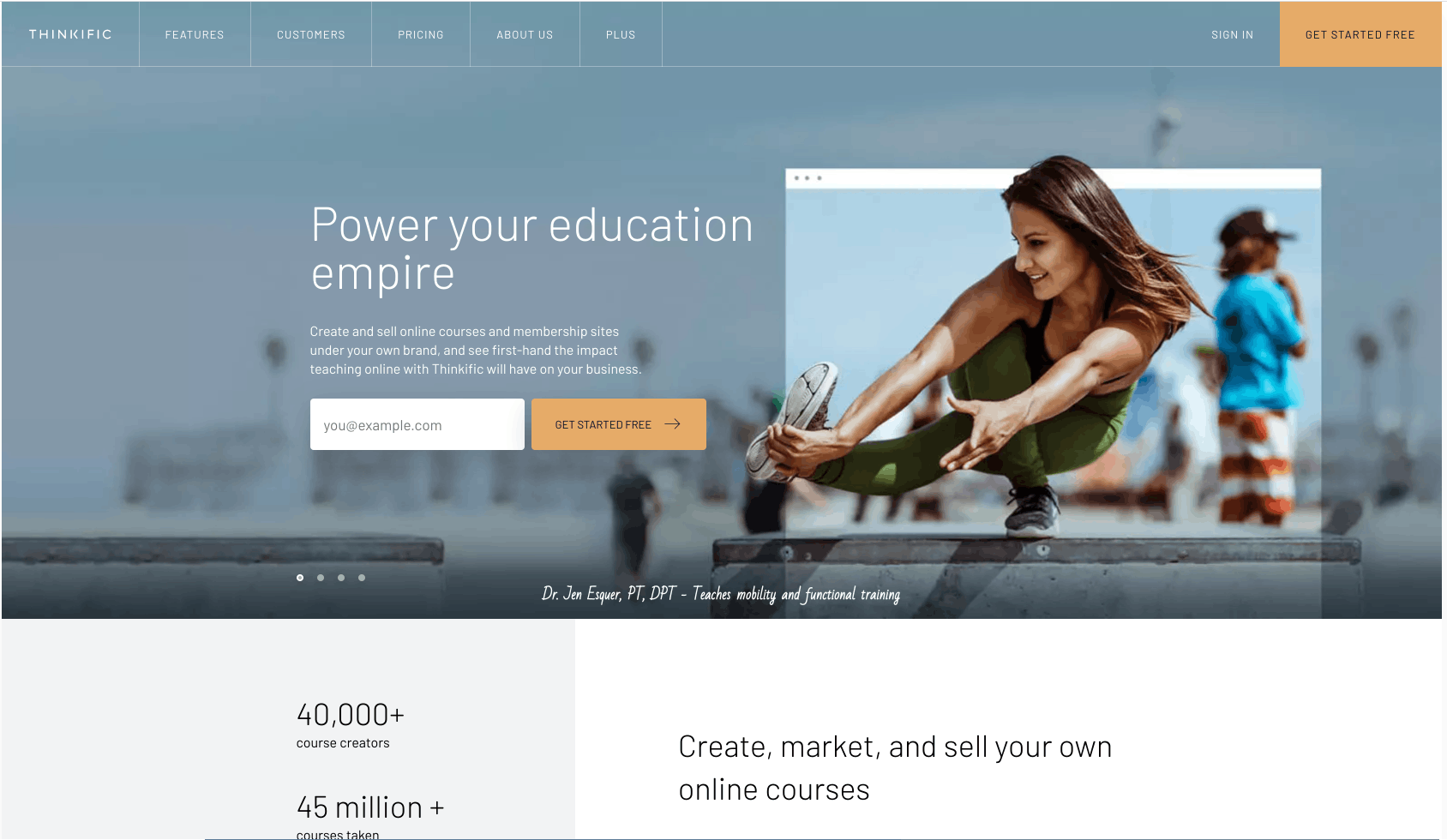 Thinkific Review 
Thinkific is a platform for individuals and businesses to create, market, sell, and deliver courses online. Thinkific powers online learning for over 25,000 course creators in 164 countries and in 20+ languages.
While platforms like Kajabi are 'all-in-one', Thinkific focuses on offering the core features—things that are considered "essentials" to create and deliver courses.
Thinkific has a phenomenal course builder, allowing you incredible flexibility in creating the course(s) that you want in exactly the way you want it. Thinkfic allows you to have the option to use a wide variety of premade course templates that guide you on how and where your content would work best, but additionally if you've already written your course and training content you have the ability to upload it all to make things simple! 
What's also really neat about Thinkific is that it also provides you with the ability to certify students and show them where they're at in their course completion - effectively encouraging students to continue learning and progressing.
Since Thinkific focuses on the core essentials - features like a landing page builder, built in email provider, and user tagging and segmentation aren't native to the solution, so you'll likely need to rely on other third party tools to supplement Thinkific - but that's not necessarily a bad thing. A lot of the third-party solutions like Convertkit, Unbounce, Mailchimp - will give you incredible customization and control around those parts of your course and content! 
Thinkific Pricing 
Thinkific shines on pricing having four different plans - Free ($0/mo), Basic ($49/mo), Pro ($99/mo), and Premiere ($499/mo). 
With Thinkific's free plan - you have access to all of the core features of the platform, including the ability to create up to 3 courses with unlimited students all without having to jump on a paid plan. The plan also allows you to create quizzes and surveys and have instant access to your funds. 
As you continue to create courses and need to add more functionality the Basic, Pro, and Premier plans come in really handy allowing you to add - unlimited courses, student email marketing, memberships and bundles, certification of students, additional admins authors, and assignments - all depending on how immersive you want to make your courses. 
You can sign up and trial Thinkific for free here today!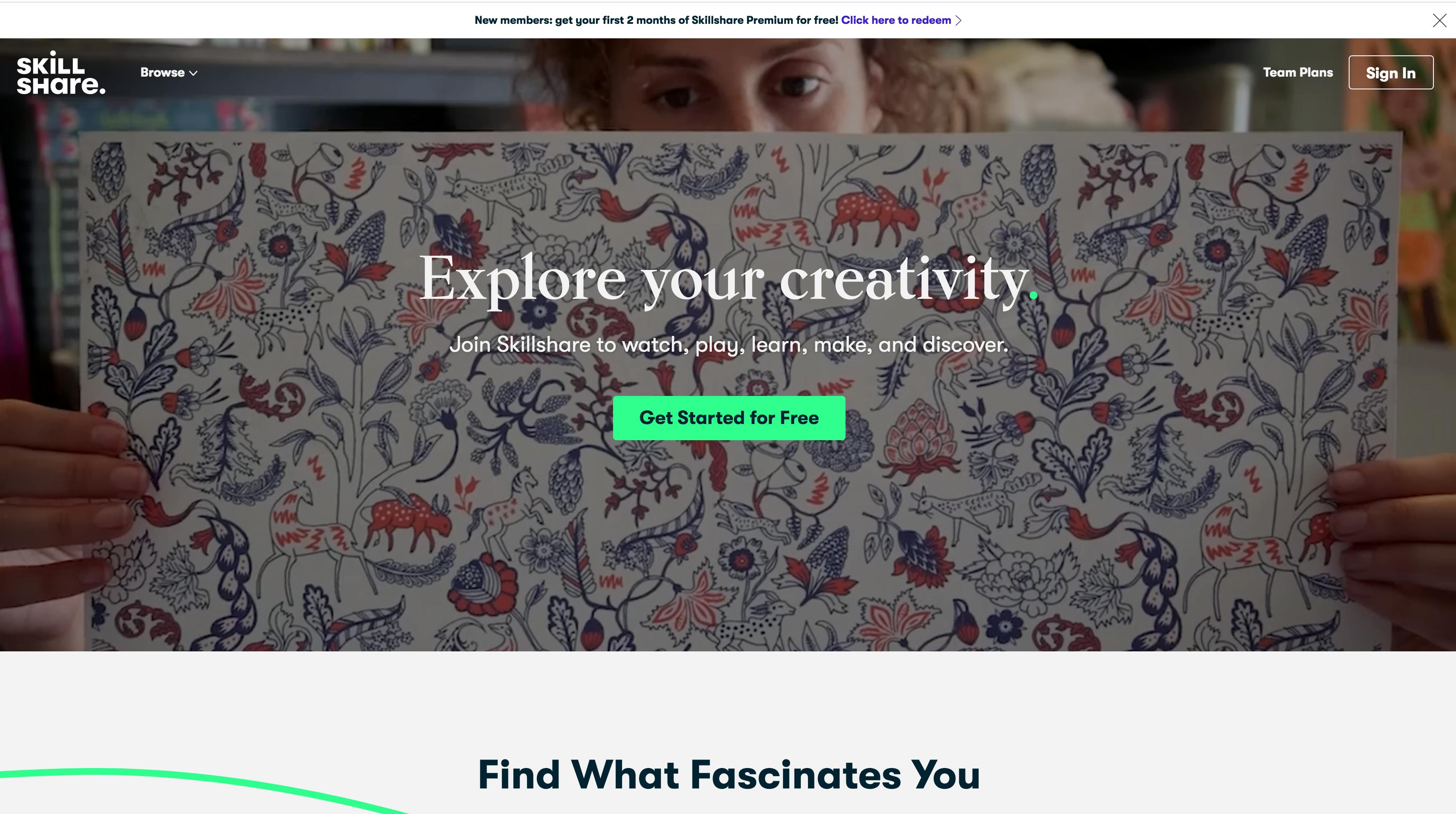 Skillshare review 
Skillshare is an online learning community with thousands of inspiring classes for creative and curious people, on topics including illustration, design, photography, video, freelancing, and more. On Skillshare, millions of members come together to find inspiration and take the next step in their creative journey.
Skillshare is a bit different from the 3 other solutions that we've highlighted in this article. It's more of a marketplace - you create the course content that you want to share - and you can share it with the world. There's the benefit of it's large marketplace of students that you can tap into and ultimately find success with. 
This does come with a bit of a different experience - while you can create your own courses, you cannot set the price for the courses as all of Skillshare members pay one fee to get access to all of the courses on the platform. Additionally you have to enroll at least 25 students before you can get paid. And you generally only make between $1-2 per enrollment from a royalty pool. But you get access to a marketplace of students where you don't necessarily need to market your courses - so a bit of a give and take. 
Like with some other platforms - using Skillshare you will still need access to website building and hosting software, as well as email marketing software to market your courses effectively. Some of the ones we've recommended in this article include Unbounce, Convertkit, Squarespace, and others!
Skillshare pricing
Skillshare is actually free to use for courses and content creators!
Since their model depends on the students joining and paying, and ultimately sharing a portion of those profits with the course creators - this makes it a really no risk solution. If you have good course content that is in demand, lots of people could prospectively join and Skillshare could kick back quite a bit in royalties! 
If you're looking to create a unique set of courses and might not have a large audience or the marketing know how - Skillshare is a great solution to start with! 
You can join Skillshare for free here today!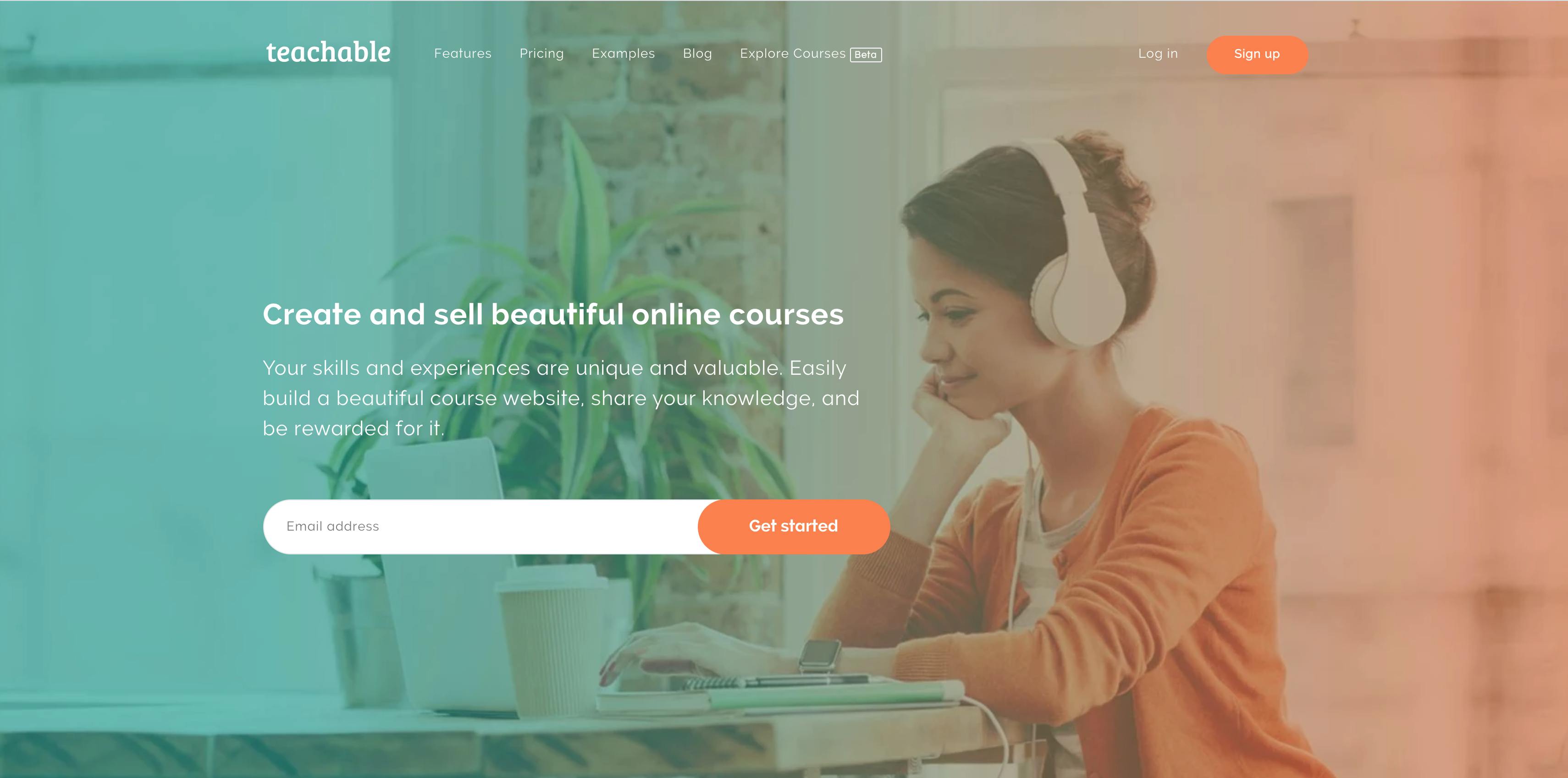 Teachable review 
Teachable (formerly Fedora) is a very popular online course building platform that is trusted by over 100,000 instructors and 23 Million students across the world. 
In a matter of minutes, Teachable allows you to create a beautiful and powerful, payment-ready course from your own website without any technical knowledge. While many use Teachable for asynchronous video-based classes teachers have used it to sell books, services, offline-online classes, group coaching, tutoring and webinars.
Using Teachable you can easily upload or create course content directly within the platform. There is also a robust set of quizzing and certification functionality to ensure students are progressing through the courses well. What's also particularly nice about Teachable is that you can use it in conjunction with your existing website or website builder (through Zapier), or you can create all of your website pages through Teachable through a pretty simple and straightforward drag and drop functionality. 
What I particularly like about Teachable is that like the other platforms you don't need to have coding knowledge to use it, but if you are on the more technical side - you can access advanced customization of all the functionality. Additionally you can connect Teachable with thousands of other apps through Zapier - so if you're looking to use Mailchimp, Unbounce, Convertkit or any other solutions alongside the tool you can! This also makes up for the fact that Teachable doesn't have native email marketing built into the system. 
An additional side note - Teachable was also recently acquired by Hotmart - another global platform for online learning management with deep penetration in Brazil and the global Portuguese and Spanish markets. So expect some more functionality to likely be introduced in the future. 
Teachable pricing 
Teachable has 4 pricing plans - Free ($0/mo), Basic ($29/mo), Professional ($99/mo), and Business ($249/mo) - the Free and Basic plans also do take a percentage (%) on your transaction volume as well. 
All plans including the free plan offer both instant and monthly payouts, as well as unlimited courses, unlimited bandwidth, unlimited hosting, email support, lecture comments, basic quizzes, and student management. What's also particularly nice is that you don't need a credit card to get started - if you wanted to try the free plan it's as simple as clicking here, signing up, and getting to work! 
As you progress through the pricing plans you get access to unlimited students, live chat support, course certification, custom user and admin roles and beyond. Take a deep look into their pricing page to find out which plan is going to be exactly right for you based on the functionality that you're looking for. 
But - if you're ready for a no-risk trial, you can click here and set up a Teachable account right now. Also - I think I mentioned this but - no credit card required! 
Final Thoughts 
Hopefully the above gave a bit of an overview of what we see as the top 4 platforms in the online course creation space. We'll continuously be looking to update the content as the platforms update their offerings - and as mentioned above, we'll be creating comparison functionality so that you can compare the platform's side by side on StackAmplify soon. 
Let us know if there's anything that we missed or if there's a software you'd like us to highlight - drop us a note at partnerships@stackamplify.com