We're all busy people, and realistically we'd all need an assistant to help with our day to day lives. I've personally found that since I started working from home, I've been bogged down with meetings, either from customers, prospective vendors, or even just catching up with friends.  Since I've been having so many meetings these days, I've been using appointment scheduling software to help streamline my days as well as make it a little easier to get everybody in on the schedule. I don't know about you, but I feel like, without my calendar, I would be continually forgetting things as well as losing track of time.  
Part of what I want to do is make it easy for anybody reading this article to take a look at the appointment scheduling space and pick the best solution out for them. What makes writing this hard is the fact that a lot of the appointment scheduling software is pretty similar and difficult to differentiate.  I'll try to do my best and go through each of the different pieces of software and highlight the significant features to give a general overview as well as touch on pricing. 
As always, I will try to keep this article unbiased and focus on the use of software so that you can make the best decision for your business. What's also particularly nice about all of these tools is they don't require any integration apart from authenticating with your calendar of choice, so even if you don't like what you chose, it's pretty easy to switch! Let us dive in!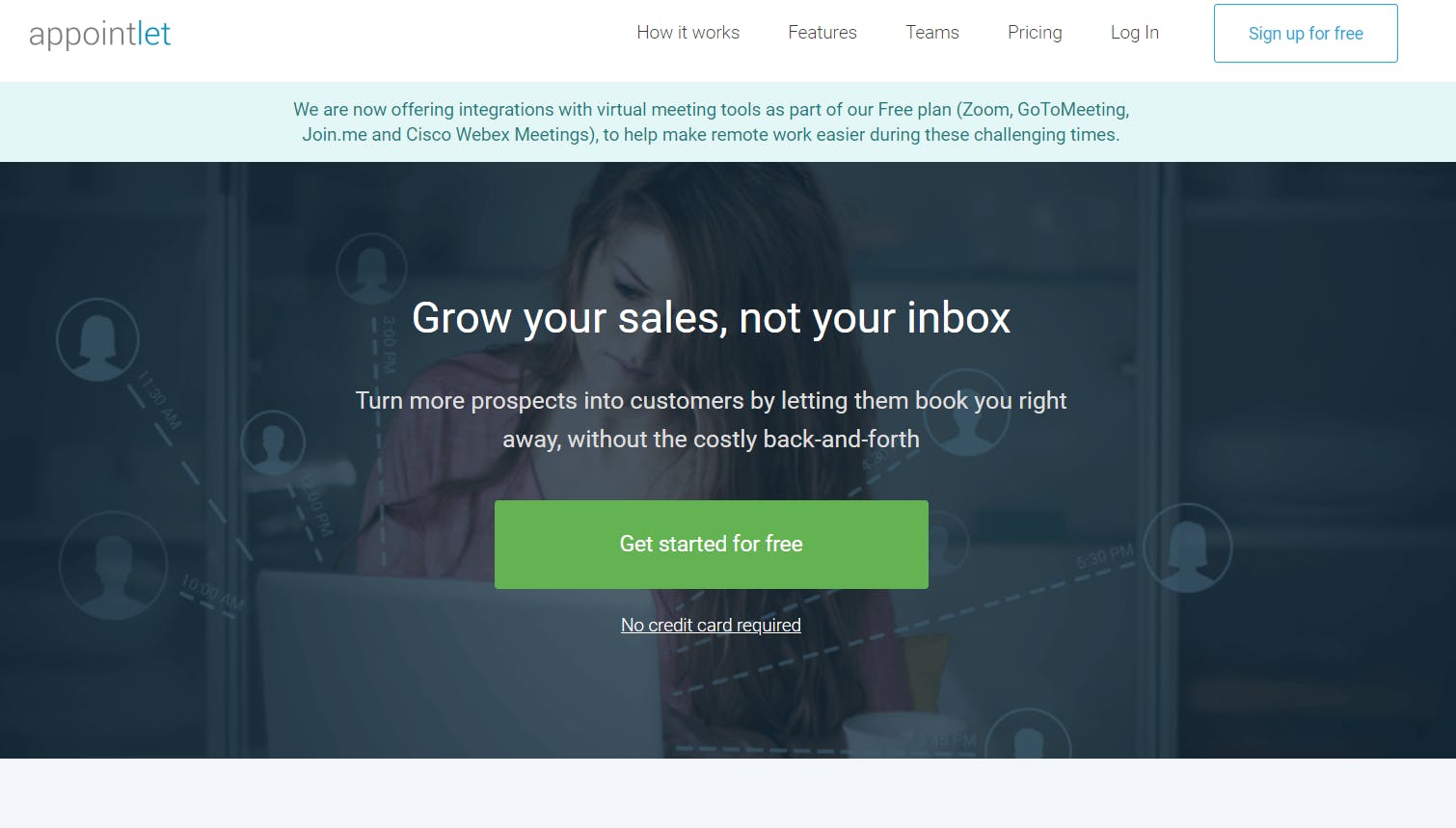 Appointlet Review
Appointlet makes life easier by allowing businesses to offer modern and straightforward scheduling to their customers and prospects. Appointlet serves businesses of all sizes and industries - from SaaS businesses to consulting companies to more typical service businesses.  Some Appointlet customers have reported up to a 300% increase in sales and up to 80% time savings from eliminating the back-and-forth, manual reminders, and administrative appointment tasks.
Appointlet is a perfect solution if you're looking for a quick to implement, simple appointment booking software. It has all of the basic functionality - booking appointments and rescheduling them with ease - but does miss on some of the more advanced functionality of other booking software.

Appointlet Key Features
Simple booking and rescheduling functionality - make it easy to book time with anyone using the service and reschedule if you needed to.
Custom personalization - you can add your company logo as well as personalize booking links that you send out to clients so that you can keep the unique feeling of the brand. 
Reporting and Bookings Dashboard - get a really quick and clear understanding of all of the meetings booked. 
Quoting Functionality - if you charge for appointments, clients will be able to see a quote informing them of the amount due when they show up for the appointment - this can integrate with PayPal and Stripe for payment.
Appointlet Pros
Seamless integration process - Appointlet connects with Microsoft Outlook, CRM applications, Google Calendar and social media - ultimately giving you more opportunity to connect with your client's scheduling needs.
Unlimited Bookings - there's no limit on the number of bookings you're able to have meaning you can send this and use this with everyone.
Unlimited Form Fields - intake all of the information you need from your clients upfront, so you have everything you need to have meaningful and engaging appointments.
Email + Intercom Chat Support - we all know that using any new technology, there's a bit of a learning curve, so knowing that you can reach out to the Appointlet team with questions is always an excellent added benefit.
Appointlet Cons
No Group Scheduling/Shared Calendar - Appointlet doesn't let you see other employee calendars in the same organization and schedule meetings with them, which can get quite tedious for those in larger organizations.
No Recurring Meetings - currently, there is no option to schedule recurring meetings in Appointlet. 
No Mobile App - while you can access Appointlet from any mobile device, there isn't a dedicated mobile app.
Appointlet Pricing
Appointlet has two main plans: a Free version ($0/month), as well as a Premium version ($8/month per member - if billed annually OR $10/month per member if paid monthly). What's nice about Appointlet is there's no risk in trying it - the free plan offers the core scheduling functionality, and if you're looking for deeper integrations with Zapier, Stripe or to add your own branding you can easily trial the Premium version for 15 days without even needing to put down a credit card!
Free - $0/month - unlimited bookings, unlimited meeting types.
Premium - $8/month per member - if billed annually OR $10/month per member if paid monthly - everything in free PLUS branding control, deeper integrations, and advanced functionality.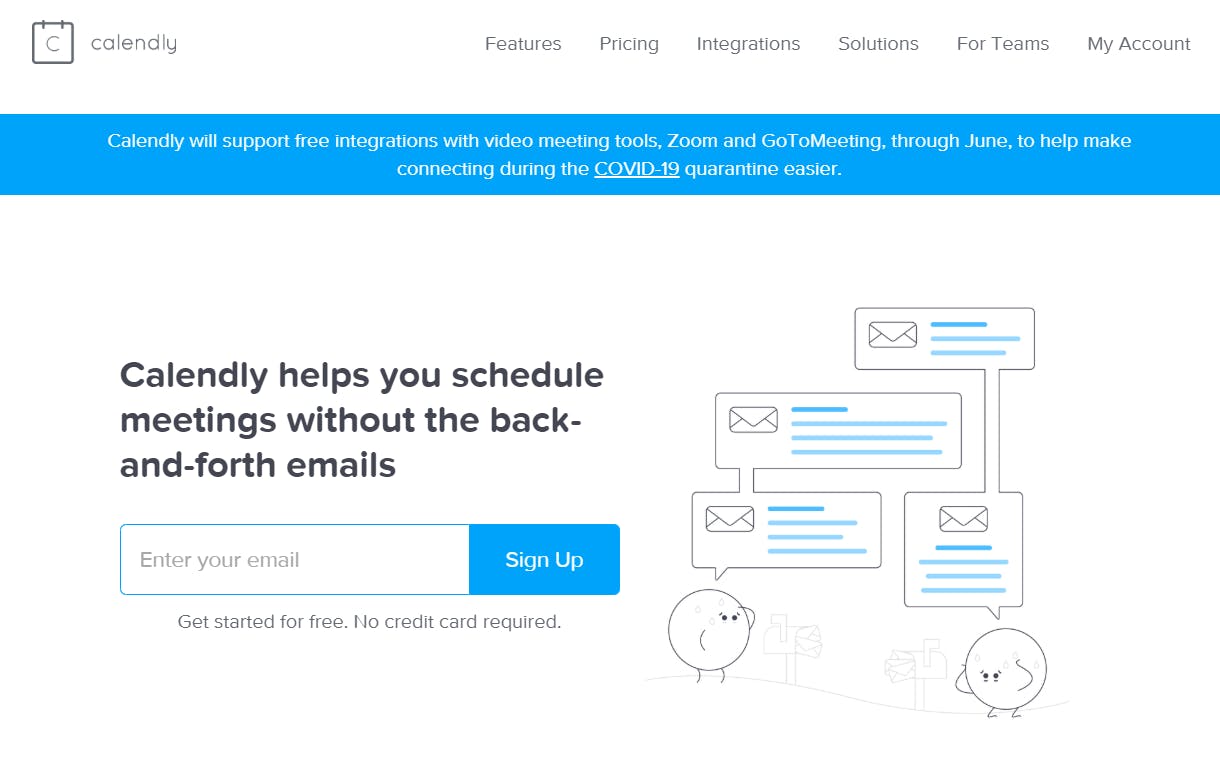 Calendly Review
Calendly is a simple, easy-to-use, yet powerful scheduling software, which aims to save time, accelerate sales and improve service quality. It eliminates the old-school way of using email and phone tags for scheduling appointments, calls, interviews, demos, and more. It's probably one of the more well-known booking software out there with a large team supporting it and an equally large client base. As with some of the other software vendors on this list - all you need to do is set your availability, take your personalized link and share it with clients, team members, etc., and have them pick a time that's open for you and an event is automatically added to your calendar. 
Calendly is best for the growing organization - where more than one individual is going to be relying on and booking meetings regularly, and where things like group events and team schedules will be a priority. 
Calendly Key Features Calendly Review
Individual and Team Scheduling - you can customize the events to enable either scheduling with an individual or with a group of people - instrumental for organizations where multiple individuals are needed on a call.
Group Event Scheduling - enabling of scheduling for things like tours, webinars, classes, etc.
Metrics and Reporting - added support for UTM parameters to make it easy to track the source of leads as well as the ability to pull reports on your scheduled invitees by source, campaign, time period, and more. 
Customizable email notifications and reminders - send custom emails that you determine your invitees need when they need it.  
Calendly Pros
Simple, elegant, and modern interface - the UX/UI team at Calendly have done an incredible job at making the platform look sleek, modern, and generally easy to use for anyone leveraging the solution. 
Breath of Integrations - Calendly has a large pool of integrations, including native integrations with Intercom, Salesforce, Hubspot, Zoom, and Gotomeeting. If that's not enough, they also have a Zapier integration which enables access to 700+ more integrations.
Mobile App - a mobile app is available for seamless on the go scheduling. Making it easy to check appointments and book them all from the app.
Enhanced privacy and control - the app provides the ability to prevent last-minute meetings, setting buffer times between sessions, and create secret event types.
Calendly Cons
Pricing limitations - this is a given with any software, but if you're looking to use some of the more comprehensive features like calendar reminders, they'll be available on specific plans.
Personalization/Customization options - Calendly does a generally good job at allowing you to customize links and remove Calendly branding at the paid plans but could enable a bit more customization options for larger businesses. 
No direct chat support - the majority of customer support is through email unless you have 10+ users, enabling chat support with someone directly at Calendly could make it easier to onboard and troubleshoot through issues.
 
Calendly Pricing 
Calendly has three pricing tiers; Basic ($0/month), Premium ($8/user/month if billed annually, $10/user/month if monthly), and Pro ($12/user/month if billed annually, $15/user/month if monthly). Basically, if you're looking for a personal appointment scheduling tool - the free plan should hit all of your needs and more, but as you start scaling up as an organization and want to add more individuals, meetings types and advanced functionality, you'll likely need to upgrade to the Premium and Pro plans. 
There's very little if any risk to trying Calendly out as a solution, given they have a completely free plan, but also offer a 14-day free trial, with no credit card required!  
Free - $0/month - unlimited events, 1 calendar/user and 1 event type  
Premium - $8/month per member - if billed annually OR $10/month per member if paid monthly - everything in free PLUS unlimited event types, branding control, deeper integrations, and customizable emails and notifications. 
Pro - $12/user/month if billed annually, $15/user/month if paid monthly - everything in Pro PLUS CRM integrations, invitee redirects, and payment integrations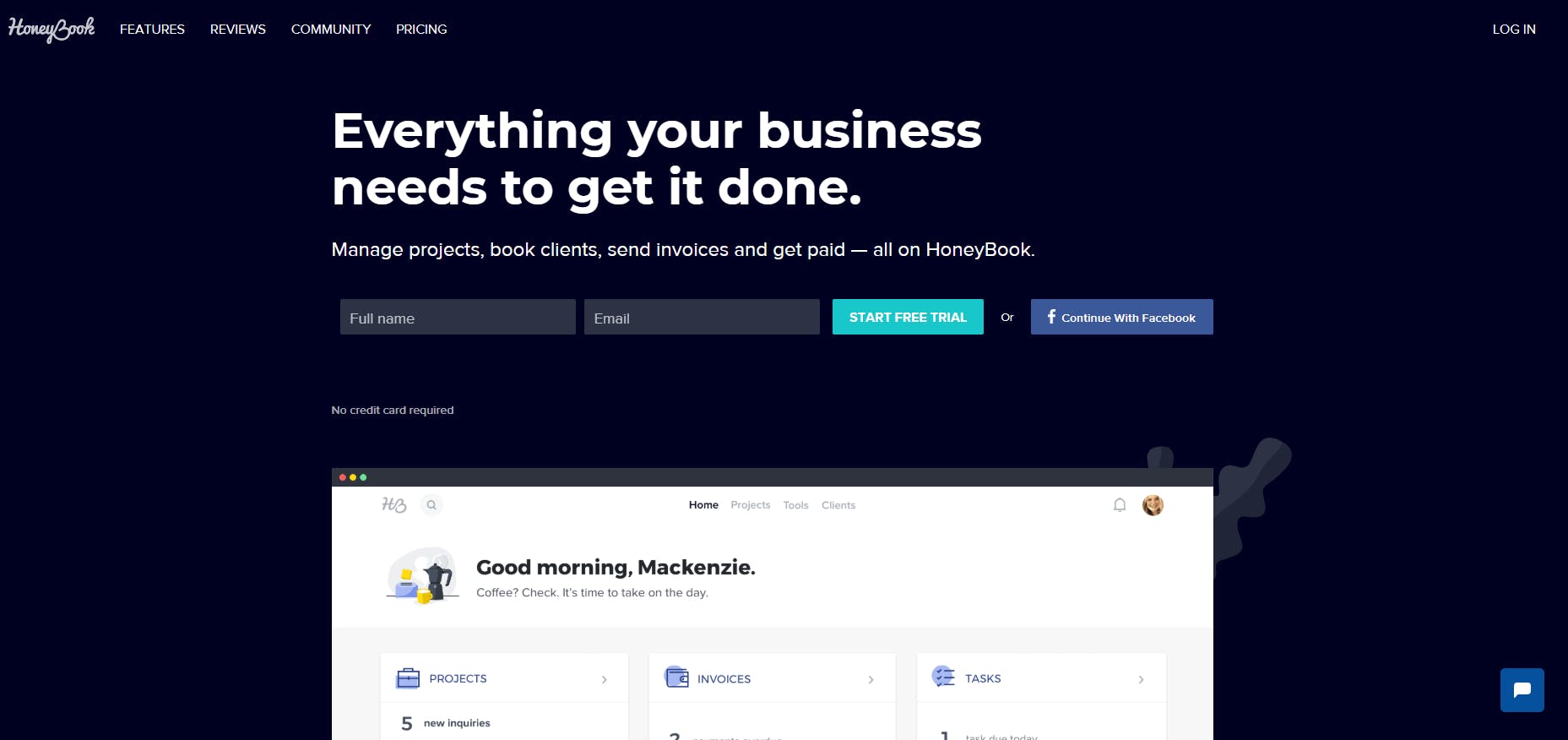 Honeybook Review
As with all of our posts, we like to throw in a curveball here and there. HoneyBook is one of those - it's not just an appointment booking software but an all in one tool, however, the majority of this review will focus on their scheduling tool. HoneyBook centralizes and automates workflow, digital payments, and generates business opportunities for customers. HoneyBook's scheduling tool gives you the same functionalities as others (like Calendly or Acuity), but also includes advanced features at no extra cost. Because it's integrated into HoneyBook's all-in-one business management platform, users have a branded, cohesive experience from first inquiry to final payment.
Honeybook is more of a platform for solopreneurs and freelancers. Creative entrepreneurs across industries, from photographers to graphic designers to marketing professionals, all currently use the platform to manage a large portion of administrative tasks for their business. This tool also works well with our post on the Top Online Learning Platforms! 
Honeybook Key Features 
Simple booking and rescheduling functionality - make it easy to book time with anyone using the service and reschedule if you needed to.
Custom personalization - you can add your company logo as well as personalize booking links that you send out to clients so that you can keep the unique feeling of the brand. 
Time Buffers - Set an amount of time to block before and/or after a session is scheduled so you're never surprised by last-minute meetings.
Portal for all communication - Your clients have a dedicated online portal to message you, select services, schedule meetings, sign contracts and pay invoices
HoneyBook Pros
Personalized project portal for each client - your clients are ultimately working with you. The scheduling page and all emails are customized with your logo and colors.
Easy for your clients to use - very easy to navigate and use for both as the admin and the customer.
Proposal and contract template functionality - unique functionality available to HoneyBook but allows for the ability to create templates without customizing every single contract manually.
Mobile App - a HoneyBook mobile app is available for you to schedule meetings, reply, invoice, and book clients on the go from the convenience of your phone. 
Honeybook Cons
Editability - users have found that you can't delete the default automated emails within HoneyBook and replace them with their own workflow. This can make it difficult for a teammate or member to understand which emails need to be used or are preferred versus those suggested by HoneyBook 
Missing advanced scheduling options - enabling of scheduling for things like tours, webinars, classes, as well as team schedule is either missing or confusing to figure out on HoneyBook
All in one pricing - HoneyBook provides you with all of the functionality under one pricing roof, so if you're looking for just the scheduling tool you are out of luck
Honeybook Pricing 
HoneyBook does make pricing very easy as they only have one plan that's $40/month OR $34/month if billed annually! Under this pricing, you get; free account setup and training, ALL of the HoneyBook features, customized workflows, customized branding, and payment processing.  
If you're looking for an all in one tool to help streamline not only basic scheduling functionality but invoicing and contracting as well, HoneyBook is a great option! They also offer a 7 day free trial of their plan with no credit card required and a 60-day money-back guarantee if you're unhappy! 
$40/month or $34/month if billed annually - includes all HoneyBook features, customized branding, payment processing (3%), fraud protection and more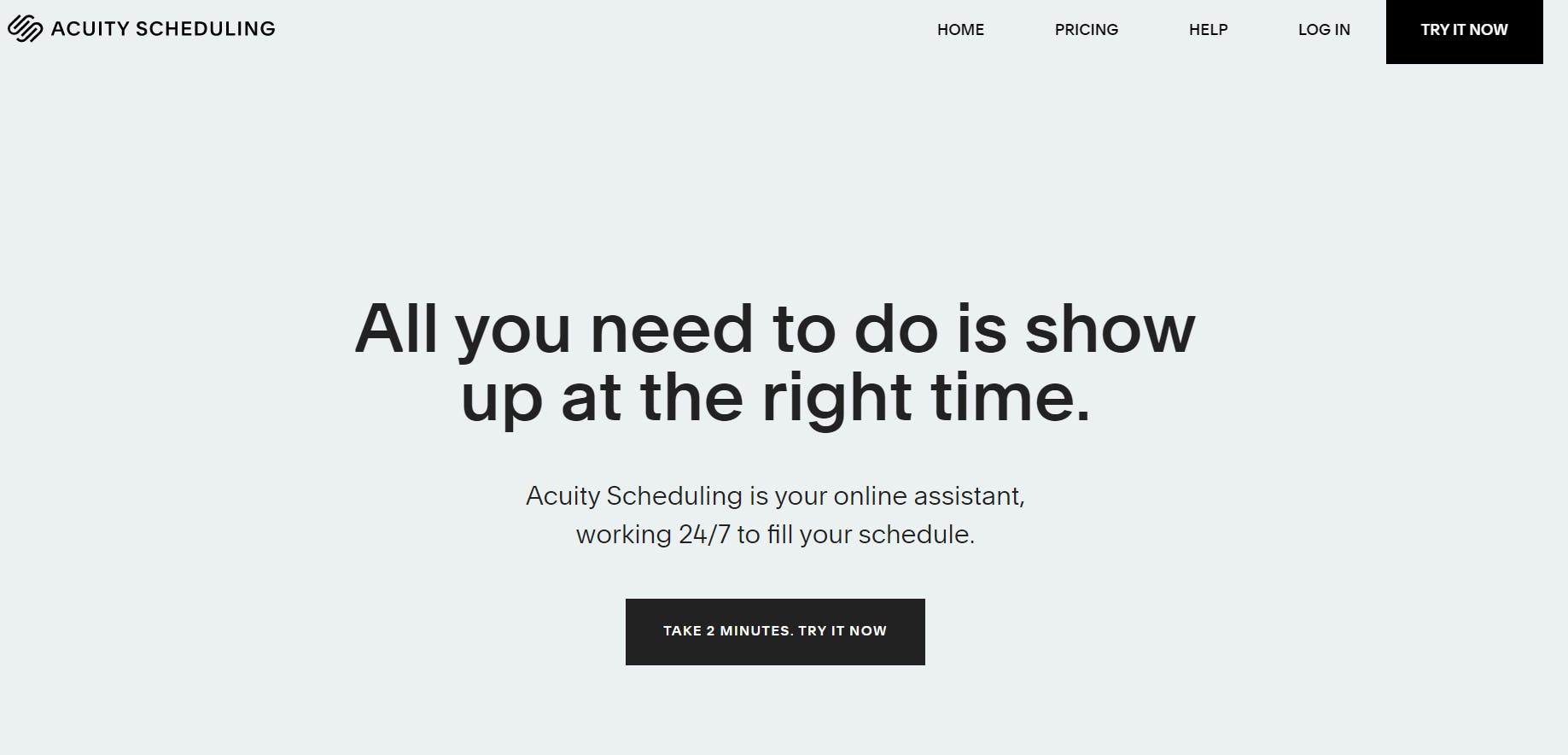 Acuity Scheduling Review
Acuity Scheduling is a cloud-based appointment scheduling software solution that enables business owners to manage their appointments online. The product caters best to the needs of small and midsize businesses as well as individual professionals. From the moment clients book with you, Acuity's there to automatically send branded & customized booking confirmations, deliver text reminders, let clients reschedule on their own, and process payments, so your day-to-day runs smoother even as the business gets busier. Their slogan being 'all you need to do is show up at the right time.' 
Acuity is also interesting because back in early 2019 it was acquired by Squarespace - the popular website creation service. This injected a whole bunch of money and talent into the tool, allowing Squarespace to continue developing features and starting to build robust integrations with their core offering. Don't be surprised if over the next few years, Acuity is slowly merged with the Squarespace offering, which will ultimately resemble something more like HoneyBook!

Acuity Scheduling Key Features 
Simple booking and rescheduling functionality - make it easy to book time with anyone using the service and reschedule if you needed to.
Custom personalization - you can add your company logo as well as personalize booking links that you send out to clients so that you can keep the unique feeling of the brand.
Ability to upsell clients with checkout add ons - this is an elegant feature available in the advanced plans of Acuity, but it allows visitors to add items to their cart as they are booking time - allowing you to upsell seamlessly.
Advanced reporting about appointments, no shows, & performance  - this one seems self-explanatory, but it's always helpful to fully understand these metrics monthly so you know what's working and what just isn't.
Acuity Scheduling Pros 
Easy in-app customization - the user experience allows for you to easily brand the links, create unlimited form fields to get as much information you need, and even add your own logo and full branding to the solution.
Custom API & CSS for Developers - this is relatively unique to Acuity (or at least I think so) - if the in-app customizations aren't enough for you and you're technically savvy you can use the API and CSS functionality to continue to brand Acuity to your liking.
Ability to enable tipping - I bet you didn't know that you could enable tipping with scheduling software, I know I didn't! Easily allow your clients to tip you in a non-invasive way to thank you for your services.
Deep and comprehensive integrations - need to integrate with any solution on the market? No problem Acuity will help - it has deep integrations with Zoom, GoToMeeting, Join.me, as well as a Zapier integration.
Acuity Scheduling Cons
Clunky interface - I've found a lot of users that have used Acuity have said they'd ideally like for it to have a more upgraded interface that projects a more modern flow.
Feature restrictions  - if you are using the free version clients will only be allowed to book via Instagram or the link, so you will have to upgrade if you want them to book through different social networks.
No chat support - all support for the tool is done using email sometimes making the back and forth to try to solve a relatively simple issue quite tedious.
Acuity Scheduling Pricing 
Acuity Scheduling has 4 main pricing plans; Freebie ($0/month), Emerging ($15/month), Growing ($25/month), and Powerhouse ($50/month), with each paid plan including a 7-day free trial and no credit card required. You'll find that as you need more functionality, customization, or have more users/locations, you will progress through these plan options.
With Acuity Scheduling's free plan, there is no risk or harm to trying! Try Acuity today!
Freebie - client self-scheduling, unlimited services, and appointments.
Emerging - $15/month - everything on Freebie and 1 calendar location and user.
Growing - $25/month - everything on Emerging PLUS 6 calendar locations and users, text messaging, and offer subscriptions/memberships. 
Powerhouse - $50/month - everything on Growing PLUS 36 calendar locations and users, sign for BAA and HIPAA compliance, custom branding.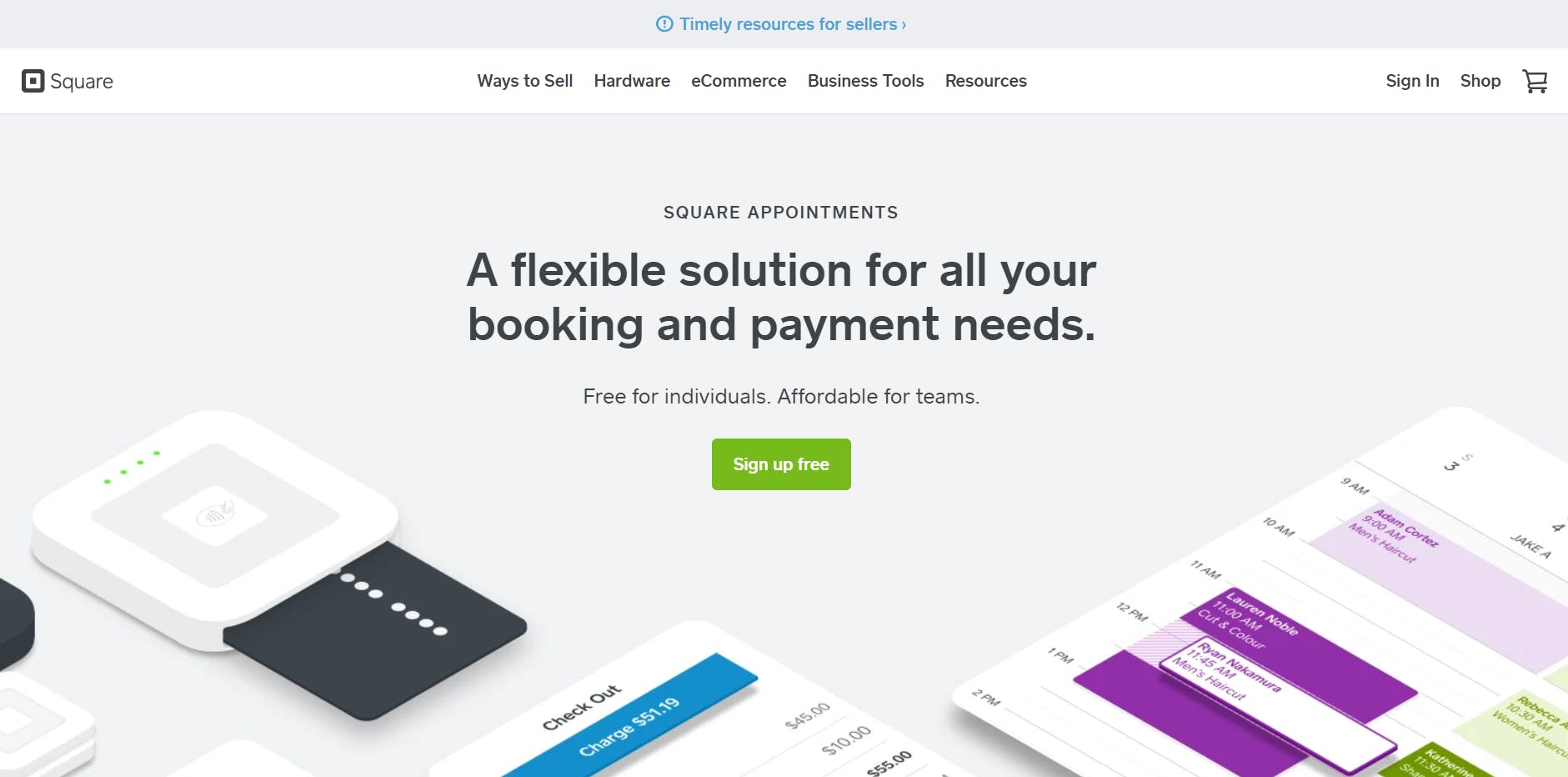 Square Appointments Review
Square Appointments is another component of the Square ecosystem primarily created for Square to equip individuals and teams powering modern businesses with the tools that they need to spend more time serving their customers, rather than trying to manage appointments.
If you're looking for appointment scheduling software that also provides you with a range of credit card, and gift card payments, Square Appointments might just be for you! This is in addition to the scheduling functionality that they already provide through their app, and if you're familiar with the Square POS ecosystem, you can expect the same friendly and intuitive user experience.  
Square Appointments Key Features 
Simple booking and rescheduling functionality - makes it easy to book time with anyone using the service and reschedule if you needed to, plus you can provide your clients with a free booking website to book all of your services.
No show protection - you can Require full pre-payments or charge cancellation fees to help prevent no-shows (Very unique to Square Appointments).
Square Assistant Functionality - Reduce your risk of no-shows and improve customer service by giving your customers automatic responses through Square Assistant live chat.
Customizable email notifications and reminders - send custom emails that you determine your invitees need when they need it.
Square Appointments Pros 
Advanced payment functionality - accept every kind of payment quickly, right in the app, save cards on file, provide gift cards, and more.
Invoicing and receipt capability - request payment for goods or services with invoices. You can create and send one-time or recurring invoices, as well as estimates for a future job or service. Additionally send customers receipts through text, email, or in-person.
Individual employee calendars - Employees can view their schedule on any synced device. Appointment confirmations are sent to them directly.
Advanced reporting - measure no shows, sales by product or SKU, by day, week, or month.
Square Appointments Cons
Lengthy setup - given the comprehensiveness of Square Appointments it can take some users a bit more time to set up depending on the functionality they are looking to use.
No recurring scheduling - currently no ability to schedule recurring appointments on certain days of the month.
Difficulty reaching support - as Square Appointments does not provide a chat option it can sometimes be time-consuming or challenging to contact a Square representative to help with an issue.
Square Appointments Pricing
Square Appointments has three different pricing plans that scale with a company as they grow listed below. Square Appointments are unique as they charge a percentage on a transaction, similar to their Point of Sale model and something we also saw in HoneyBook earlier in this article. 
Individual - Free for a single user, with a price of 2.65% plus 10 cents for each transaction.
2-5 employees - $60 per month, plus a price of 2.65% and 10 cents for every dip, tap, or swipe.
6-10 employees - $110 per month, with a price of 2.65% plus 10 cents for every transaction.
Other good options and top mentions:
Final Thoughts
If you've made it this far, chances are you've gone through a whole lot of information about some impressive appointment booking and scheduling software in the space. Each is a little unique, depending on the use case and functionality you're looking for, as well as the size and scale of the company you're currently running. If you're an individual looking for personalized appointment booking software, then all of these platforms are a great fit! If you're a large corporation or enterprise, then pick the solution that best fits the needs or the pain points you're looking to solve. 
In any scenario, all of the appointment scheduling software solutions are a great fit, and ALL of the solutions in this article have a free plan that you can try before you even have to commit to anything! So pick a solution, try it out, and if it doesn't work, come back to this article and select another! 
If there are any other scheduling tools that you'd like us to review, please send us a message at partnerships@stackamplify.com